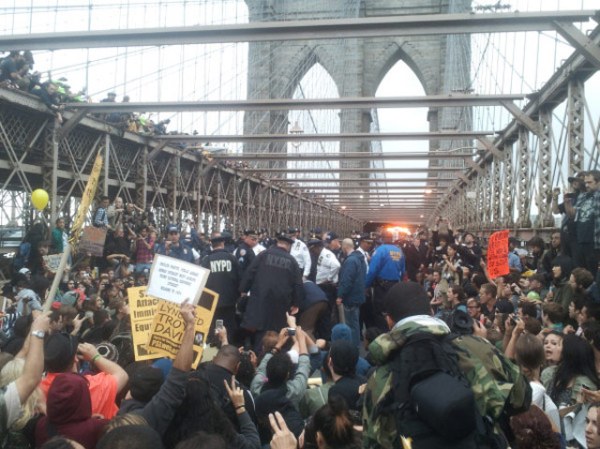 Yesterday, Mayor Bloomberg announced that that the city would be raking in $70 billion from tourists four years from now, as the administration and NYC & Company continue to ramp up tourism to the city. Spending last year amounted to $32.5 billion, and $48.5 billion in economic impact, from a record 50.5 million tourists.
This got The Observer thinking, and, as often happens when we get to thinking, we we got to worrying.
At current rates, wouldn't it take, given diminishing returns, another 25 million tourists or so to reach the target spending levels by 2015? Think Times Square and the Brooklyn Bridge are bad now? Imagine them 50 percent more crowded. Oh, the humanity. (There would certainly be a lot of humanity around.)
But it turns out we had it backwards. This is not a case of diminishing returns but compounding ones.
By attracting a mere 55 million visitors by 2015, the city can reach its goal of $70 million in economic impact by then—so long as it is attracting the right visitors. Kimberly Spell, chief communications officer for NYC & Co., helped break it down for us.
Out of that 55 million we are targeting and selling destination to international travelers who spend more money than our domestic visitor.

In that international group we are super focused on the new emerging markets where the traveling populations have grown and are spending more on their vacations (i.e. Brazilians are making out like gangbusters buying up electronics, small appliances, etc. on their visits).

Add in cost of inflation, factored with strength of the dollar and rising costs of our goods (think shopping) into a complex economic model across our 18 markets (where we run tourism and press offices), and we get the new projections.
Those projections are below, and as they show, the growth in tourists may not be as horrifying as the typical(ly stuck-up) New Yorker might think. Tourism grew by 5 million visitors between 2005 and 2008, roughly the same time horizon currently being targeted, and would have continued to rise but for the recession in 2009. In fact, tourism totally recovered within a year and continued its march upward—toward the Empire State Building observation deck, no doubt.
What is more interesting about the numbers is how the spending per-tourist has risen over the time period, and how it tracks with the number of international visitors. In 2005, there were 35.8 million domestic tourists and 6.8 million international tourists, who spent $24.3 billion with $36.1 billion in economic impact. Last year saw 40.3 million U.S. tourists, 10.3 million foreigners, and $48.5 million in economic impact. By 2015, the administration projects 43.2 million from over here, 12.7 million from over there, all spending $45 million, with $70 million in economic impact.
The increase comes from the types of good and services used, some of which like food and shopping, have a duplicative economic effect. As the administration pointed out in its announcement yesterday, every percentage point shift between domestic and foreign tourists nets the city an extra $600 million.
"These new projections illustrate just how important future visitors are to the City's economic well-being and the essential role tourism plays in sustaining the energy and vibrancy of the five boroughs," NYC & Company CEO George Fertitta said at a tourism conference in LA yesterday. "We have identified key growth markets and will be launching initiatives to keep our record-breaking momentum going through 2015 and beyond."
Who knew Century 21 would be the key to the 21st Century New York City economy?
mchaban [at] observer.com | @MC_NYC