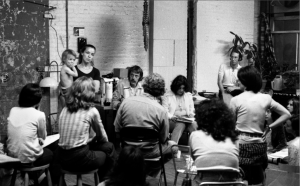 On May 25, 1979—the first day his mother allowed him to walk to the bus stop alone—6-year-old Etan Patz went missing just blocks from his parents' Soho loft. The case roused the fears of the nation and changed the way parents raised their children. In the days and months after, the full force of the New York press was trained on the family. The case became as much of a media phenomenon as a police investigation.
Despite thousands of man hours on the part of law enforcement, and the identification of at least one suspect in 1990—a convicted child molester named José Ramos, currently in prison in Pennsylvania on other charges—no arrests have been made in the Patz case. Last week, the FBI and NYPD excavated a basement on Prince Street, just one block from the Patzes' apartment, and once again the media descended on the family. Law enforcement officials are analyzing a stain they found, but so far they have "nothing conclusive."
On the slim chance that Etan would find his way home, the Patzes have never moved or changed their telephone number, and each time a possible development arises, a new onslaught of reporters arrives at their door. In the 33 years since the disappearance, the Patzes have lived with the media as a fact of their life. We talked to reporters and editors who covered the case in its first year.
George Goodman, then a reporter for The New York Times, now at work on a biography of Sonny Rollins: It was a beautiful spring afternoon on Spring Street. And nobody really knew the distress that the Patz family was going through.
John Miller, then a reporter at Channel 5 News, now a senior correspondent at CBS News: What I remember that day was walking up the couple of flights to get to the Patzes' apartment and walking in and seeing the pandemonium inside. The police had set it up like a command post. They were stringing telephone wires to bring in extra lines so that the Patzes' line would be free in case there was a call from the kidnappers. They had 300 cops there, and they were doing a grid search of the neighborhood, every apartment every backyard, every basement.
Alan Tannenbaum, then the chief photographer and photo of the Soho Weekly News, now a photojournalist at Polaris Images: It was a big shock that something would happen in that neighborhood, which was kind of a quiet neighborhood not known for having a lot of kids. And then he just disappeared so quickly and without any trace at all, so that was pretty mind blowing.
Jerry Schmetterer, then the police bureau chief of the Daily News, now a spokesman for the Brooklyn district attorney's office: Soho back then wasn't like it is now. It was an artsy neighborhood. Etan's father was a photographer. It had galleries, but it wasn't the trendy, chic place that it has been over the last 10 years or so. It was a little meaner and there were still areas of warehouses and printing companies. The Apple store wouldn't have opened down there.
Tannenbaum: There was a law called Artists in Residence, and a lot of these loft buildings had signs on the outside that said "AIR. floor five," things like that. So the firemen would know there were people living there, if there was a fire.
Miller: I met Julie Patz that day and I said, "Tell me what happened." And she said, "He walked to school, and I stood out on the fire escape and I watched him walk all the way to the corner where the bus stop was, and that was the last I saw of him." I asked her would you step outside on the balcony and point in that direction and show me how you watched, 'cause I was thinking, it's a television story, we're going to have to make it visual. So we had the cameraman shoot her on the balcony kind of looking in the direction she was looking.
Goodman: She was just gulping coffee. And I think she might've been smoking cigarettes. It's like every reporter feels when they're going out to do a story like that. You ask people how they feel. It's an intrusion in a way and you feel very self-conscious asking them questions that they've answered already for a dozen times.
Allen Arpadi, then a photographer for the Soho Weekly News, now a retired photography professor: When I went to the apartment, there were some—let's call them friends of the family—as well. And I asked somebody a kind of religious question: "Can you have a funeral?" And I remember a guy saying "No, you need a body to bury."