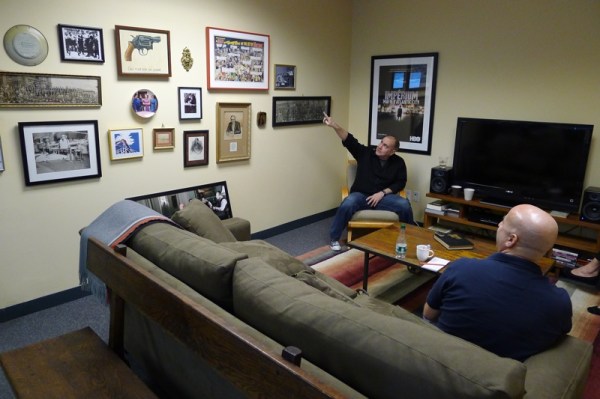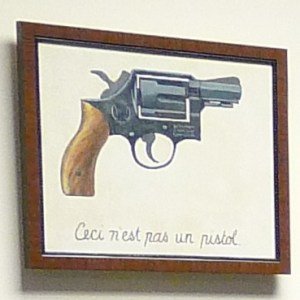 When The Observer visited Steiner Studios earlier this year for a profile of the film production facility's founder Doug Steiner, we all dropped by Terence Winter's office on the third floor of the 20-acre complex's main stages. It is there that each episode of Boardwalk Empire is painstakingly crafted by the former Sopranos writer, now showrunner.
Mr. Winter's office is packed with paraphernalia from his past and the real past. Two huge Boardwalk Empire posters, one in Korean, one in Czech, frame a flat-screen TV. On the facing wall, a Mad magazine poster of The Sopranos hangs, signed by the entire cast; "Fuck you. -James Gandolfini" it says next to a caricature of the actor, who felt the artists made him look especially fat. Two plates hang nearby: a commemorative one of The Honeymooners, a favorite of Mr. Winter's growing up, and a dinner plate from the original Calissimo's restaurant in Chicago. It was actually used in the first episode of Boardwalk, in the scene where Al Capone shoots Jim Calissimo. "A good find on eBay, that was before Calissimo became real popular," Mr. Winter said. "I'm sure it would have been much more expensive after the show."
Alongside the old photographs, posters and props is an unusual painting of a snub-nosed revolver on a beige background. Below it, in cursive, "Cesi n'est pas un pistol." The story of this mock Magritte is a wild one, as outlandish as the artwork itself. Being the fantastic storyteller that he is, who other than Mr. Winter should share the tale than he himself, in his own words.
One of my writers, he was my writer's assistant on The Sopranos, I was headed to LA to see my girlfriend, who's now my wife, it was like three days before Christmas, so I had my stuff at the office, and as I was leaving he says, "Oh, I have a Christmas gift for you." So he gave me this wrapped package, and I threw it in my carry-on bag. I get to the airport, I'm on line at the conveyor belt, and I notice it's taking a long time.

Finally I look down at the two security people, and I notice they're looking at their screen and they're looking at me and they're looking at their screen and they're pointing at me and finally I realize, I go, Oh fuck. "Guys, I've got a wrapped gift, it's in my bag." I'm thinking it's a wrapped gift or something. I'm thinking it's nail clippers or something, and they go, "O.K." And the guy comes over to me, he goes, "This is your bag." I say "Yeah, O.K., it's my bag, I have a gift…" He says, "You have a firearm in your bag. Sir."

I went completely limp.

I said, "I'm so sorry, somebody gave me this gift, I don't know what it is."

Now these guys live for this shit, this is what they do. It's like, Whooop Whoooop [he mimics the sound of a siren]. You know, they divert the line, they're all running, I'm like, I don't believe this. So they open it, they make me open it. I open it, I open it up, and it's a 1930's replica cap pistol. It was sort of like a paper weight, but it was, it looks like a gun. If you held this to someone's head, you'd be flying the plane. And they're like, "We have to call the real police." I'm like, "The flight is leaving in like 20 minutes," I can't believe this. So I call Steve, he was at the office, I say, "Hey. I opened your gift, I just found out what you got me." He says, "Oh, great, do you like it?" I say "Yeah, great, I'm on line at security at the airport."

"Ahhhh, fuck, I'm so sorry, I'm so sorry."

I go, "Yeah, thanks."

So the real police come, and, um, the guy goes, "Have you ever been arrest." I go, "No." "Well, that might change today." I say, "O.K." He says, "Look, I believe you, I got to call my lieutenant, if he's in a good…" I say, "Am I getting on this plane?" He says, "I don't know, maybe, maybe not." I say, "Fine." So he calls his lieutenant, he goes, "O.K., you can go, but obviously you gotta leave…" I say, "Fine, you can keep it." I say "Look, please don't put me on some watch list or something, I fly all the time." He said, "Nah, I promise you I won't."

So a month and a half later, I get a letter in the mail from like the transportation security association. I'm being fined $1,500 for trying to smuggle a firearm onto an airplane. I said, I'm not signing this letter, that's not what happened. So I get the lawyer on the phone, and they said "Look, they're really cute, you can pay a fifteen-hundred dollar fine and roll the dice and try to fight it in court, or you can pay seven-fifty, don't fight it, and it's squashed and it's done." And I say, "Oh, gee, let's see, I'll take the seven-fifty." But I say, "Look, you've got to change the language of this letter. I inadvertently tried to take a replica cap pistol on the plane." So they changed the language. So that was the deal and it was done and they never put me on the list.

And then the next Christmas, Steve got me that picture.

And I just barely got on the flight, I made it by just a minute, I ran down the hall as they're closing the plane door. But you know, in retrospect, better that they found it at security than I was sitting on the plane and I went, Oh, what's this, a gun? I probably could have been killed on a plane.

But it worked out fine. It just cost me a little money.