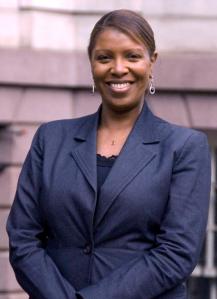 At today's City Council hearing on the co-location of public and private schools, Councilwoman Tish James declared she was in the room to "advocate" as she walked in.
"Tish James said that she is 'advocating' here, indicating that she may be running for Public Advocate," the head of the education committee, Councilman Robert Jackson, joked later, referencing her public campaign for the citywide office.
"I didn't say that," Ms. James retorted.
"I said that!" Mr. Jackson said in response.
"You're not supposed to say that," went Ms. James' reply.
"I can say whatever I want to, it's my hearing," Mr. Jackson declared.
Watch the exchange below: