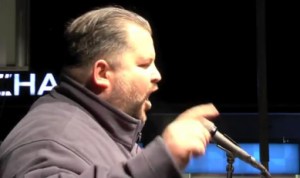 The Transit Workers Union Local 100 is holding a daylong "reclaim public transit" event tomorrow in conjunction with Occupy Wall Street and the Working Families Party, against the backdrop of their protracted contract negotiationswith the Metropolitan Transit Authority. According to the statement announcing the event, it is designed to "highlight funding and infrastructure needs of public transportation across the nation" and "raise awareness about how public transit supports good jobs, sustainable communities, a greener environment and reduced consumption of oil." Tomorrow's event will include a pair of press conferences as well as leafleting and petitions calling on the MTA to "reoccupy" underutilized buildings in Downtown Brooklyn in order to cut costs.
TWU Local 100 remains engaged in protracted contract negotiations with the Metropolitan Transit Authority. Technically, the union's contract expired in January, but both sides agreed to continue talks past the deadline. Last time Local 100's contract expired in 2005, the union went on a strike that cost them millions of dollars due to penalties imposed under the Taylor Law, which bars New York's public employees from going on strike.
Occupy Wall Street is planning a general strike on May 1, but the occupiers have reportedly had trouble convincing unions to join them. Late last month, occupiers took responsibility for chaining open gates at several subway stations and posting flyers advertising the general strike and "free entry." Though Occupy Wall Street claimed workers from Local 100 cooperated with the free ride protest, the union denied any involvement.