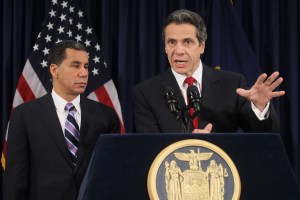 BuzzFeed recently reported on the existence of a file prepared by Governor Cuomo's staff on Capital Tonight blogger Liz Benjamin, which generated much discussion and amusement among New York's political reporters. While Mr. Cuomo's staff has insisted there is nothing unusual about the report, which was created to discuss with senior executives at Capital Tonight's parent company, Mr. Cuomo's predecessor, former Governor David Paterson, told The Politicker he didn't keep such files on reporters.
"No I didn't have any files," Mr. Paterson said when asked about BuzzFeed's report after his press conference on taxi accessibility earlier today. "They had them on me!"

Mr. Paterson, of course, had an occasionally tenuous relationship with the press, with plenty of lot of drama surrounding one report from The New York Times in particular.
For their part, various members of Mr. Cuomo's press team have dismissed criticism of the 35-page report, which highlighted extremely innocuous criticism with labels like "GENERALLY SNARKY."
"Since the beginning of media, since the beginning of the printing press, the government has discussed and at times raised objections to coverage by the media," his spokesman, Josh Vlasto, said in a radio interview yesterday.