Tom Vanden Brook and Ray Locker have been investigating possible disinformation campaigns by "propaganda contractors" allegedly working for the Pentagon, so it should come as little surprise that both men became targets of similar campaigns.
Mr. Vanden Brook and Mr. Locker have been reporting on the United States military's so-called information operations program for USA Today. The program, targeting Iraq and Afghanistan, has reportedly cost in the hundreds of millions but apparently criticized even by government officials as "ineffective."
The alleged campaign against the reporters was extensive, according to–who else?–USA Today:
…Internet domain registries show the website TomVandenBrook.com was created Jan. 7 — just days after Pentagon reporter Tom Vanden Brook first contacted Pentagon contractors involved in the program. Two weeks after his editor Ray Locker's byline appeared on a story, someone created a similar site, RayLocker.com, through the same company.
A Pentagon spokesman told the paper that they were "not aware of any participation in such activities" and wouldn't find them "acceptable." USA Today consulted an online reputation expert who said the efforts–which extended to Facebook, Twitter and Wikipedia as well–indicated someone "very sophisticated about reputation attacks."
While some of the material amounted to copies of the pair's past work, other online posts alleged Mr. Vanden Brook and Mr. Locker were somehow working under the aegis of the Taliban.
Mr. Vanden Brook termed the efforts "creepy and cowardly."
USA Today also reported that if the creators of the fake sites used government money for their efforts against the reporters, they may have violated federal law.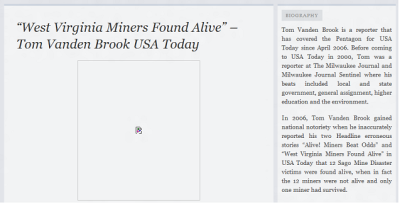 A cached version of the WordPress blog registered under Tom Vanden Brook's name revealed the blog creator's bruising contempt in a biography on one side of the page, which read in part:
In 2006, Tom Vanden Brook gained national notoriety when he inaccurately reported his two Headline erroneous stories "Alive! Miners Beat Odds" and "West Virginia Miners Found Alive" in USA Today that 12 Sago Mine Disaster victims were found alive, when in fact the 12 miners were not alive and only one miner had survived.

The Sago Mine Disaster and Vanden Brook's media mishap received extensive news coverage worldwide after Vanden Brook reported the incorrect information.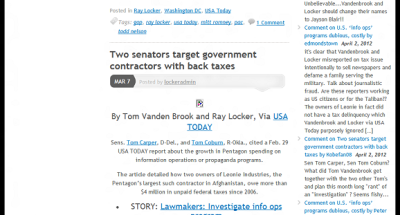 The cached page for RayLocker.com initially appeared to be an innocuous dump of his published work, however a "recent comments" feed in the blog's sidebar (it was also a WordPress blog) gave a taste of the treatment Mr. Vanden Brook received in the bio on "his" site. Regarding a story co-written by the reporters regarding alleged U.S. "info ops," a commenter using the moniker "edmondstown" wrote:
it's clear that Vandenbrook and Locker misreported on tax issue intentionally to sell newspapers and defame a family serving the military. Talk about journalistic fraud. Are these reporters working as US citizens or for the Taliban??
Regardless of the efforts against them, both Mr. Locker and Mr. Vanden Brook seem determined to continue their work, Mr. Vanden Brook telling USA Today, "If they thought it would deter me from writing about this, they're wrong."