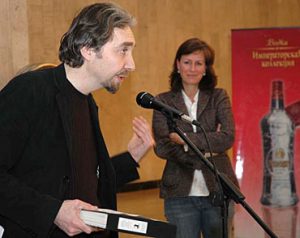 Details of nations' plans for their 2013 Venice Biennale pavilions are trickling out. Stella Kesaeva, the commissar of the Russian Pavilion, announced that the nation will present the work of conceptual artist Vadim Zakharov, with critic Boris Groys serving as curator. (Thank you to Baibakov Art Projects for bringing this news to our attention.)
Mr. Zakharov has exhibited widely and also been an influential historian of avant-garde art in Russia. The Baibakov Art Project blog notes that he also appeared in the Arsenale at the 49th Venice Biennale in 2001 with a project that involved sumo wrestling. He appeared in the Guggenheim's 2005 "Russia!" show and won the 2006 Innovation Prize for Contemporary Art in Russia.
This is Ms. Kesava's second time serving as commissar of the pavilion. For the previous edition of the Venice Biennale, she tapped Andrei Monastyrski and Collective Actions, with Mr. Groys also handling curatorial duties for that outing.