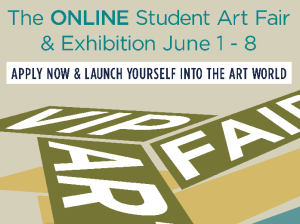 As art students around the country and internationally are gearing up for their MFA thesis exhibitions, the VIP MFA Art Fair will give those same students a chance to join a juried online contemporary art fair. For one-week, from June 1-8, VIP MFA Art Fair, brought to you by the people behind the online fairs VIP Art Fair, VIP Paper and VIP Photo, will present an online event made just for graduate students and recent alums itching to make their first big splash in the art world, online. Why wait for a gallery to come to you? As its poster advertises, "Apply Now and Launch Yourself Into the Art World."
Like a thesis exhibition, the selected artists will select a small body of work, in this case five to 10 works, and will get to show them to a curated audience. But rather than host the exhibition at the student's school studio, this exhibition will make the works available through the VIP Art Fair platform, which boasts 73,000 registrants from 155 countries, including collectors, art dealers, curators and institutions.
VIP MFA, which is taking applications both by invitation and open submission, began inviting schools one week ago and has thus far already received more than 100 applications. There are 46 schools in total with programs in the U.K., Singapore, Egypt and South Africa, and 20 schools from the U.S. including Cal Arts, Columbia, SVA and Hunter. Additionally, there are 10 schools whose inclusion is pending. VIP MFA is open to including schools they haven't had the opportunity to consider.
"A student emailed us from the School of Fine Arts in Athens," said VIP MFA's Gregorio Cámara, "Now they are in the conversation."
The fair will end submissions on May 6, at which point, a panel of six judges will decide which 200 students will participate. The judges are artists Diana Al-Hadid and O Zhang, Matthew Higgs of White Columns, Kate Fowle of ICI, Jens Hoffmann of Wattis Institute and Joachim Pissarro of Hunter College.
Of that pool of 200 artists, three "outstanding" artists will be selected to receive a prize, which will be split with their MFA institution ($15,000 for 1st place, $10,000 for 2nd place and $5,000 for 3rd place).
"It's somewhat unruly, unmanageable, and unpredictable," said Matthew Higgs, the director and chief curator of White Columns who has also served on the jury for the Turner Prize. "It's very refreshing to see work this way, not through the usual channels and a preordained context."
For Mr. Higgs, it's not dissimilar from the open submissions policy of White Columns, New York's oldest alternative art space, which is responsible for giving many artists who would later be world-renowned their first exhibitions. While he said it can only be positive for the students, he noted some "complicated concerns" that the fair raises like "the speed at which art leaves the studio," which he admits is nonetheless not a new issue for the art world.
With an audience of 73,000 viewers from the art industry, many of these artists will not have even had a chance to flounder a little. Maybe there's no longer any room or time for floundering, only launching. What will come of this generation of artists, "The First Generation," as the poster announces, "To Emerge Via the Internet" 10 years down the line?
Who knows? But for now, you too can take part because, like all work in the VIP Art Fair, these works will be for sale. Mr. Cámara expects the work to be in the range of $2,000-5,000, which is normal for an open studio or MFA exhibition, but he can't say for sure. "We're asking the students to appraise their own work."