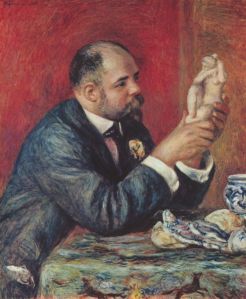 Descendants of the famed Parisian art dealer Ambroise Vollard—a champion of vanguard European art in the late 19th and early 20th centuries—are suing Serbia, alleging that its National Museum contains more than 400 works illegally appropriated during World War II, Reuters reports. It's quite a bounty of material, including pieces by Matisse, Degas and Cassatt.
Vollard died in a car crash in 1939, when work on the epic set of 100 Picasso prints now known as the Vollard Suite was still in progress. And here the wire service picks up the story:
As World War Two broke out in Europe, part of his collection was transferred to Yugoslavian Erih Slomovic for safekeeping, but Slomovic, who was Jewish, was subsequently arrested and killed in a concentration camp in 1943.

The Yugoslav government later requisitioned the works and placed them in the national museum.
There's no response from the Serbian government as of yet.
Artists loved painting the dealer! Cézanne did him in 1899, Renoir in 1908 and Bonnard around 1924 (with his cat). Picasso did perhaps the most iconic depiction of him, in 1910, when he was in his Analytic Cubism phase.