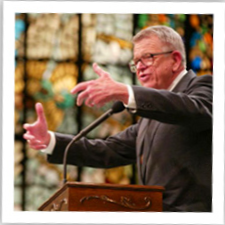 Charles "Chuck" Colson, evangelist, author and former hatchet man for President Richard M. Nixon, died today, two weeks after surgery on a blood clot in his brain. Mr. Colson was 80 years old.
As President Nixon's special counsel, Mr. Colson played a major role in the Watergate scandal. While serving on the committee to re-elect the president he took part in the plan for White House "plumbers" like G. Gordon Liddy to steal background information from Democratic foes.
Convicted of obstruction of justice in connection with Watergate, Mr. Colson had a spiritual awakening prior to spending 7 months in prison. There he realized a calling to minister to convicts. He founded the Prison Fellowship and helmed the organization for 33 years. Mr. Colson also headed the Colson Center, which according to his official obituary was an education effort "focused on Christian worldview thought and application."
Mr. Colson remained a staunch conservative and along with his  prison ministry also lobbied against causes like gay marriage and abortion.
Various politicians issued statements regarding Mr. Colson's passing, including Indiana congressman Mike Pence, who called the death "a personal loss." and Senate G.O.P. head Mitch McConnell, who stated his "thoughts are with the Colson family, and all who have been touched" by Mr. Colson's life and works.
Karl Rove, "hatchet man" for the George W. Bush administration, talked about Mr. Colson with Christianity Today, calling Mr. Colson's trajectory after Watergate "the ultimate story of redemption." In answer to a question about Mr. Colson's influence on Mr. Bush's political victories, Rove said, "To the degree that values issues mattered in the election, Chuck's influence was probably more in the second election than in the first because of policies like the faith-based initiatives. You're putting Chuck in the wrong context. You're putting him as a political warrior instead of being a faith and culture warrior."