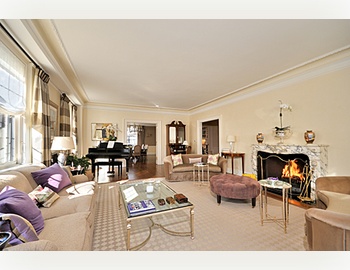 The 12th floor apartment at 860 Park Avenue clearly has a lot going for it—a wood-paneled dining room, fireplaces galore, a bright chef's kitchen with a six-burner stove (four can be so limiting). But perhaps the best amenity of all is peace and quiet.
The property, listed since November with Nestseekers brokers Wendy Jackson and Ben Lieblein, has sold for the $11.47 million asking price, according to city records. The buyer is Brandy Katz, who appears to be the former resident of family-feud ridden 737 Park Avenue.
The tony building at 737 was once owned by her grandfather Louis Katz, whose largesse in leaving his six grandchildren incredibly cheap apartments only sparked family strife.
Ms. Katz was one of four cousins named in a 2010 lawsuit filed by another cousin, hedge fund manager Ross Haberman. Mr. Haberman sued to stop his cousins from trying to raise the $300 a month rents for the spacious apartments closer to fair market value.
And while it may not be the family manse, the co-op at 860 Park seems like an ideal way to avoid crossing one's litigious kin in the lobby. Exposures on all four sides promise great light, there's a gallery with marble floors and "even the powder room is well appointed," we learn from the listing.
As for sellers Jaime and Victoria Tomashoff, they've apparently relocated to a slightly smaller condo further uptown, at 1212 Fifth Avenue. According to Streeteasy, their apartment there is in contract for $4.9 million.
kvelsey@observer.com