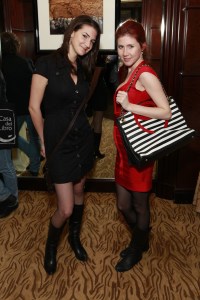 The real reason the F.B.I. snapped up spicy Russian ginger spy Anna Chapman in 2010 may have just been revealed–Ms. Chapman was alarmingly close to bedding a member of President Barack Obama's "inner circle." That's the report coming from the U.K.'s Independent by way of Wired Magazine's "Danger Room." Read what the British paper has to say about the high-level allure of Ms. Chapman's duplicitous sugar walls:
Top officials feared the glamorous Russian agent wanted to seduce one of US President Barack Obama's inner circle. Frank Figliuzzi, the FBI's head of counterintelligence, reveals how she got "closer and closer to higher and higher ranking leadership… she got close enough to disturb us".

The fear that Chapman would compromise a senior US official in a "honey trap" was a key reason for the arrest and deportation of the Russian spy ring of 10 people, of which she was a part, in 2010. "We were becoming very concerned," he says. "They were getting close enough to a sitting US cabinet member that we thought we could no longer allow this to continue."
Sadly for the U.S. press, perhaps, Mr. Figliuzzi would not name the targeted official. It's easy to guess who it wasn't–we can probably write off the Secretary of State or Homeland Security–but that still leaves plenty of interesting targets.
At the time of her arrest Ms. Chapman was viewed by American press as perhaps more of a titillating curiosity than a true threat to national security. Russians, as Wired points out, have turned Ms. Chapman into a national celebrity with a vibrant social media presence–kind of like a Julia Allison who has actually done something.
But not really.