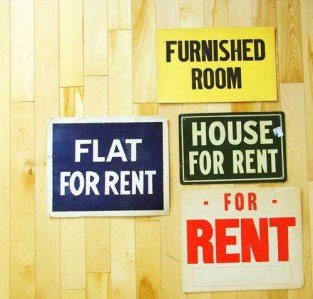 There are many miserable components of the rental process. Searching through listings, going to look at unappealing, overpriced apartments, digging out old pay stubs and bank statements to prove that you can afford one of these unappealing, overpriced apartments. This is all followed by excruciating hours (or even days) that you spend wondering if the management company will accept these documents as proof that you can, in fact, pay for said apartment.
Nothing can help blunt the unpleasantness of these tasks (suppress any hopeful feelings you may have had), but now you can sign your lease online. Yay?
RentJuice, a rental marketing software developer, announces that they have "just unveiled the future of real estate." You can now use your finger to sign your name anywhere with a touchscreen device and an internet connection.
This may, the company suggests, help you beat out less fortunate souls who are still fooling around with paper documents. In any event, it will eliminate the slight inconvenience of visiting the management company's office.
While this hardly seems earth-shattering, given that fax machines still play a pivotal role in closing so many rental deals, we're actually mildly impressed by such a development. What's next? A program that refunds the application fee when the management company doesn't actually bother to run a credit check?
kvelsey@observer.com