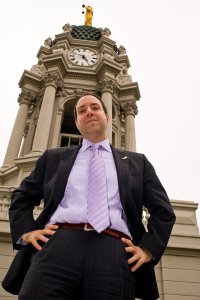 Yesterday afternoon, Brooklyn Borough President Marty Markowitz's senior adviser Carlo Scissura announced he was dropping out of the race to succeed his term-limited boss and will instead be heading up the borough's local chamber of commerce. Although he was never necessarily the front runner in the race or intimidating other candidates from entering, his exit does leave State Senator Eric Adams as the lone contender for the position, which could encourage potential candidates to take a second look.
So far, the three other candidates who have publicly floated their names for the seat, State Senator Kevin Parker, Councilman Charles Barron and Assemblyman Nick Perry, are all, like Mr. Adams, African-American and, with the exception of Mr. Barron, from Central Brooklyn. If any demographic or geographic vote splitting were to occur, there could be even more electoral oxygen for a white or Latino candidate from another part of the borough to leap into the race.
Or maybe, as the New York Post suggested this morning, no other candidates will emerge and Mr. Adams will be uncontested in the campaign to fill Marty Markowitz's shoes. And, of course, he's unquestionably the leading candidate for the job at this moment int time.
Nevertheless, here are some additional theoretical candidates, which emerged from batting possible names around with Brooklyn politicos over the past 24 hours:
Councilman Domenic Recchia:
Why he might do it: He's been raising serious money for a citywide run for Comptroller, but all that cash could be effortlessly transferred to a Borough President campaign as well. Additionally, Mr. Recchia, a southern Brooklynite with ties to the establishment, would have shared some constituencies with Mr. Scissura, so yesterday's news might impact his thinking, especially with another Councilman, Dan Garodnick, already storming into the Comptroller's race.
Why he might not: His stature on the Finance Committee might better equip him for the Comptroller's office.
Councilman Brad Lander:
Why he might do it: Mr. Lander's base in Brownstone Brooklyn inevitably has high turnout in Democratic primaries, and the Borough President's ability to affect land use and zoning issues might be appealing given his own political interests.
Why he might not: He's still in his first term in the City Council and running for reelection would be the most obvious path for him.
Councilman and possible future State Senator Lew Fidler:
Why he might do it: He's term-limited out in 2013 and his previous electoral escape hatch, running again for the State Senate later this year, might have been closed with a Republican redistricting plan that went out of its way to make his life difficult. Like Mr. Recchia, he has some shared constituencies with Mr. Scissura and could see an easier path as a result of his exit.
Why he might not: In addition to possibly not wanting the job, his political brand might have been nicked by underperforming in his March 20th special election to the State Senate.
Councilman Erik Dilan:
Why he might do it: He's term limited out next year, could pick up Latino support in his campaign, and as a close ally of Brooklyn Democratic boss Vito Lopez, he'd be able to reach out beyond his base.
Why he might not: It'd obviously only be a possible consideration for him if he loses his current bid to unseat incumbent Congresswoman Nydia Velázquez this year, and he might not have high enough of a profile for the run.
Councilwoman Diana Reyna:
Why she might do it: She's term limited out, could pick up Latino support, and as a prominent opponent  of Brooklyn Democratic boss Vito Lopez, might be able to reach out to reform-minded voters outside of her base.
Why she might not: Like Mr. Dilan as well, it's not clear if she has enough stature for a borough-wide campaign.
 Councilwoman Tish James or State Senator Dan Squadron:
Why one of them might do it: Despite being friendly with one another, they are currently rivals for the Public Advocate's office, and either of them would be a very strong candidate to replace Mr. Markowitz. Additionally, their campaign war chests would easily transfer to the new race.
Why they might not: They both seem committed to being the next Public Advocate, and, as both of them have credible path to victory for that citywide office, it might simply not be worth it for them to run for a lower profile job.