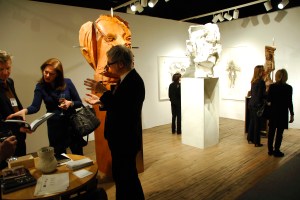 This afternoon, our inboxes were aflurry with announcements by the three major fairs during Armory Week—the Armory Show, the ADAA Art Show and Independent—staking their claim on dates for next year. While we've got more than enough on our plate with Frieze Art Fair just around the corner, this news has got us looking ahead into 2013.
The Armory show, which celebrates its 15th anniversary next year, will take place Thursday, March 7 through Sunday, March 10, 2013, with an invitation-only preview day on Wednesday, March 6, 2013. It will be joined once more in 2013 by the ADAA Art Show (March 6-10) and Independent (March 7-10).
While the Art Show, which celebrates its 25th anniversary next year, has traditionally been held in March, its announcement that it will continue to hold its show that month is still interesting, given rumors that the fair might move its dates to coincide with the newest addition to the U.S. art fair circuit, Frieze New York, which opens May 4 on Randall's Island.
Independent will once again hold its fair (or, according to its founders, its "temporary exhibition forum") in the former Dia Art Foundation building in Chelsea, with architect Christian Wassmann handling the layout.
There is no word yet on 2013 dates for the smaller satellite fairs like Scope, Volta and Pulse, but these announcements, timed with the arrival of Frieze, might just indicate an allegiance between the Armory Show and its Armory Week brethren.
[UPDATE 4/24/12 5:55 p.m.] We just received confirmation from an Armory Show spokesperson that Volta NY (the Armory Show's sister fair), Moving Image and Scope will hold their fairs in conjunction with Armory Week in March.