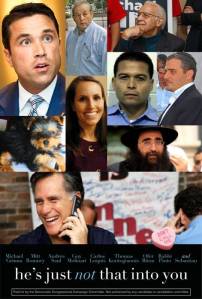 The Democratic Congressional Campaign Committee had some fun PhotoShopping Republican Rep. Michael Grimm in a press release today.
The DCCC used the presidential primary coming to New York later this month to highlight a possible fallout between Mitt Romney and Mr. Grimm following allegations of illegal fundraising to create a poster similar to the movie He's Just Not That Into You.
"Congressman Grimm is 'persona non grata' in the Romney campaign," Josh Schwerin, a spokesman for the DCCC, said. "Yet he refuses to accept that while he is head-over-heels for Mitt Romney … the feeling just isn't mutual."
Mr. Grimm has fiercely denied these charges, and despite a few weeks of bad headlines at the start of the year, no new substantive developments have occurred and his reelection campaign has mostly been focused on a regular rollout of labor and party endorsements.
Nevertheless, it's obviously to the DCCC's advantage to continually remind everyone of the initial allegations, which they've been attempting to do steadily. This isn't even the first time they've PhotoShopped him on a poster.
"Now that the campaign has entered Congressman Grimm's backyard and is still not allowing him to represent Romney ahead of the April 24th primary, will Grimm finally admit that his party's standard bearer wants nothing to do with him and his multitude of scandals?" Mr. Schwerin asked at the end of today's statement.
Mr. Grimm will face off against Democrat Mark Murphy in November.