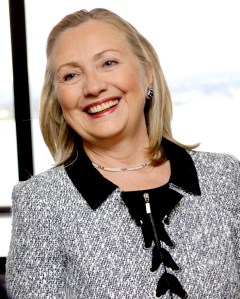 It was Beyoncé Knowles who sang that "Girls (Run the World)." She would know, especially given Sunday's mob scene outside Bar Pitti, where she and husband Jay-Z attracted an agitated crowd, frenzied by a rare public appearance of their new daughter, Blue Ivy.
For evidence, tune to HBO, which debuted a show Sunday night starring daughters of David Mamet, Brian Williams and Laurie Simmons, whose 24-year-old spawn, Lena Dunham,alsowrote, directed and coproduced Girls alongside Hollywood's favorite one-manchild movie factory, Judd Apatow.
Note that Beyoncé didn't have "women" in the chorus of her song. Even though Hillary Rodham Clinton can cover the New York Post, drinking beer and earning a classic headline—'SWILLARY!'—in the process, it would seem Old Age and Treachery are no match for the youth these days, or at the very least, the fawning attention youth commands. Like Girls, the exciting winner of this year's Pulitzer Prize for fiction, Nobody, sent the chattering classes into overdrive, but not quite the way 24-year-old reporter Sara Ganim winning a prize for investigative reporting did.At that moment, Arianna Huffington and the first Pulitzer for her news operation of largesse was an afterthought.
How obsessed are New Yorkers with fixating on young people? Just take the thousands who tuned into alive stream of the NYU Library's most famous residents—two red-tailed hawks, Rosie and Bobby—as they hatched two new New Yorkers into the world. Elsewhere at the city's finest factory of Drunk and Debt-Riddled Youth, NYU president John Sexton finally hammered out a deal with Manhattan borough president Scott Stringer for the university to continue to metastasize onto Manhattan like an invasive tumor.
Incredibly, it was only five years ago that Gossip Girl first premiered, and introduced the world to a new take on what happens when the young are left to their own hormonal devices. The first song on the show was a catchy 2007 hit with the saccharine-sweet chorus: "They don't care about the young folks." Things change quickly, especially since perpetual Peter Pans from Jay McInerney to Jerry Lewis all clamored for cameos on the show, which is now about as cool as April in New York City used to be (before young people ruined the ozone layer, too).
Perhaps Girls presents the only viable option for fighting the youth as an adult human, as evidenced by the way it closed out its pilot episode with a too-appropriate tune by Paul Simon's 39-year-old songwriting spawn, Harper:If you can't beat 'em, don't join them, but spawn your own youth to infiltrate and conquer.