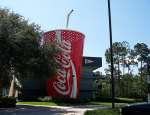 The Mike Bloomberg administration may want to ban large sodas soon rather than later.
Candidates vying to replace Hizzoner at City Hall didn't sound too inclined today to continue the policy announced today of banning large sodas at restaurants and concession stands should they win the mayoralty.
City Comptroller John Liu wondered why Mr. Bloomberg was so gung-ho about banning large sodas but reticent to require all cyclists to wear helmets. 
"While obesity is a serious public health issue, it is puzzling that the Mayor seems more concerned with the possible long term effects of sugary drinks than the potential instantaneous results of a bicycle crash, such as a traumatic brain injury," Mr. Liu said.  "As thousands who are unfamiliar with the City's terrain are set to hit the streets this summer through the bike share program, the Mayor should reconsider his opposition to the City Council's helmet legislation."
Christine Quinn, the City Council speaker and a mayoral ally, pointed out that the key to getting people to eat healthier is to give them healthier options, and said during an avail today that she was concerned about the ban being excessively punitive.
Fighting the obesity epidemic comes down to personal decisions and that's why knowledge about nutrition is important because with it, people can make healthier choices. Another important factor is access to healthier foods. We've seen that if better choices are available, people will often take advantage of them. That's why we've expanded Green Markets and the EBT program. However, limiting people's choices is not about knowledge, empowerment or access. It seems punitive and I worry that in the end, this proposal won't yield a positive result. Because after all, the person who doesn't understand why it's not healthy to drink 18oz of sugared soda, is simply going to get two 10oz cans or extra refills.
Tom Allon, meanwhile, the CEO of Manhattan Media and something of a longshot who is running on a platform of continuing much of Mr. Bloomberg's agenda, hailed the measure.
"I applaud the Mayor's decision to limit access to large portions of sugary drinks. We have a public health issue that rivals smoking in its pernicious effects on our children. As a parent, I support this and think the Mayor has made a bold statement that we should not allow the next generation to drink itself to death."
A spokesman in Manhattan borough president Scott Stringer's office said that he hadn't yet received a briefing on the plan from the mayor's office and is still evaluating it.
We have reached out to the other contenders, including former City Comptroller Bill Thompson and public advocate Bill de Blasio, and will update with their responses when we receive them.
Mr. Thompson says that the attention on the matter would be better focused on educating young people about the dangers of sugary foods.
"This move does nothing to teach people about positive nutritional values and sounds more like parlor talk than real solutions for the obesity epidemic. The city should be educating students in our schools about good health and not limiting what our citizens can purchase. Ten years into this administration and this is the best they can come up with? "