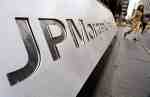 JPMorgan fallout: Jamie Dimon couldn't sleep after seeing the CIO positions! He had a hard time breathing! Mr. Dimon drank vodka, others drank wine and the JPMorgan chief executive officer struggled to fire "sister" Ina Drew. Ms. Drew told executives at an April 9 operating committee meeting that early press reports of the London Whale were "blown out of proportion." On May 7, Mr. Dimon stepped away from the war room for a meet with Mark Zuckerberg. And more: the Wall Street Journal gets some great play-by-play from JPMorgan's 48th floor war room as executives grappled with trading losses that are believed to have topped $3 billion.
Crisis experts liked Mr. Dimon's forthright response to the billions in trading losses JPMorgan disclosed last week. Lucas van Praag chimed in: "From a communication perspective, the approach is smart, although I'm sure their legal team would probably rather pursue a bunker mentality."
Simon Johnson parses Tim Geithner's NewsHour interview and hears the Treasury secretary asking Mr. Dimon to resign from the board of the New York Fed.
JPMorgan's losses are "the way America works," Mitt Romney in an interview Wednesday with Ed Morrissey. "The $2 billion JPMorgan lost, someone else gained."
How high? Your guess on Facebook's closing price is as good as ours. Reuters finds a 15 to 20 percent pop credible, which puts the price in the mid-$40s; the average estimate of analysts polled by Morningstar was $50. On twitter yesterday, it wasn't hard to find pundits pushing estimates well into the $70s (those higher marks seemed less serious, more sneering).
Meanwhile, Facebook will pay it's underwriters $176 million in fees, or 1.1 percent of the $16 billion offering, a hefty discount to the median 3.6 percent that the 10 previous biggest U.S. IPOs paid investment bankers.
Not breaking up? Greek voters are returning to pro-bailout parties, a new poll finds. The prospect that the leftist Syriza coalition, whose leader Alex Tsipras has threatened to "tear up" the existing rescue plan, increasing fears that Greece may leave the eurozone.
Still, a commercial printer is drawing up plans to produce drachma banknotes, in the contingency of a Grexit.
Spanish steps: Moody's downgraded 16 Spanish banks, and the two biggest by three grades each. A little perspective: Morgan Stanley said that a three grade cut by two ratings companies would force the firm to post an additional $9.6 billion in collateral.
Spain tapped Goldman Sachs to value nationalized lender Bankia SA.
A-list: Goldman executives Lloyd Blankfein, Gary Cohn and David Viniar, American Express CEO Kenneth Chenault and former Proctor & Gamble CEO A.G. Lafley are among the financial industry titans to receive invites to the insider trading trial of Rajat K. Gupta.
Oracle offered: Warren Buffett kicked the tires on ResCap, Ally Financial's mortgage unit, before the embattled home lender filed for bankruptcy, according to Bloomberg. Buffett sought to avoid a ResCap filing because his firm, Berkshire Hathaway, held unsecured debt in the lender.
[Photo by Mario Tama/Getty Images]