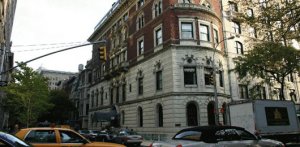 The late Howard Ronson and his family had a dream—a dream of making the mansion at 828 Fifth Avenue whole again, as it was in the glorious days when coal magnates commissioned Fifth Avenue manses and robber barons ruled the land. But sometimes dreams die.
After a buying spree that netted four of the nine luxurious co-op units in the building, the family is giving up, The Wall Street Journal reports.
The family has decided to give one lucky buyer—a "person with vision"—the chance to purchase their failed dream for $72 million.
So what does $72 million get this very lucky buyer? A handful of renovated apartments that Ronson, a developer of modern office buildings, and his estate purchased for $33.95 million between 2005 and 2008 (one must pay a premium, of course, in the off chance that he or she may be able to bribe the other tenants into budging from their apartments, thus reclaiming the entire house—though for god knows how much more money).
Built by coal baron Edward J. Berwind in the 1800s, the house on the corner of East 64th Street, has been called "nothing less than a palace," but it remains, as it has for many years, a vexingly multi-family dwelling.
Apparently, 72 is the lucky (or unlucky) number for this listing, as brokers say that the clan, which is based in Monaco, now owns 72 percent of the building.
The listing was placed with Corcoran brokers Sharon Baum, Leighton Candler and Deborah Grubman, as well as Stribling broker Alexa Lambert, according to The Journal.
It's unclear why exactly Ronson, a Brit living in Monaco who was seeking a pied-a-terre when he bought into the building, found himself so compelled to reassemble the original mansion. Was it simply the instinct to build and rebuild that made him so successful in business? Did he want more space to spend his limited hours in the city? Or was he simply unsatisfied by existing townhouses like the Stanford White mansion a few blocks down Fifth?
In any event, we know that Ronson first bought an apartment spanning two floors, followed almost immediately by two other purchases: a maisonette duplex and a full-floor apartment. Inspired by the beauty of Ronson's vision, his family refused to let death come between them and full mansion ownership, scooping up the penthouse (with terrace and rooftop garden) after he died.
Altogether, the Ronsons own 15,000 square-feet of space, plus some terraces and a wine cellar. (This puts the price into some perspective, which, while outrageous, is about $4,800 a foot, half what record-setting penthouses at 15 Central Park West and One57 are currently going for). Two co-ops were combined to form a triplex, which, with a 34-foot-long ballroom and wedding-cake ceilings, which would almost certainly be a hot commodity in today's market.
But unless one has an entourage (nudge nudge Sheikh Hamad bin Jassim bin Jaber Al Thani—we also hear the building is very friendly to internationals), we're not sure what one would do, exactly, with a disconnected penthouse apartment and a maisonette. Of course, you could just persuade the other residents of the other two apartments to move out. Might we suggest all-night parties upstairs, all-day construction downstairs.
Because, you know, this isn't just any Fifth Avenue mansion, this is a mansion on a corner that gets really good light and it's directly across "from one of the better parts of Central Park," Corcoran Group president Pam Liebman told The Journal.
You know, as opposed to all those townhouses abutting mediocre parts of Central Park.
Right now is a very popular time to buy high-end real estate, but we can't help but wonder if anyone will drop a record-setting $72 million on 828 Fifth Avenue. After all, with buyers lusting after condos and all the full-service amenities that come with them, rebuilding a Fifth Avenue mansion seems like, well, something out of the coal age.
And if you really want an opulent single-family mansion, you could just purchase the Woolworth Mansion.
kvelsey@observer.com