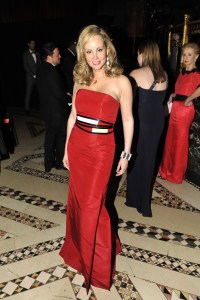 New York is a medley of pedigrees. More than anywhere else in the world, our metropolis is a patchwork of identities, a bricolage of bloodlines and homelands. The city's sundry constitution was particularly evident last Thursday evening at the annual el Museo del Bario gala where city grandees of varied lineage congregated to celebrate New York's premiere Latino arts institution.
"I love when people mix and blend. So, I love when my Jewish friends are like, 'I feel so Puerto Rican right now.' I like that kind of feeling; that's very New York," Reuben Toledo told The Observer, noticing the peculiar cocktail-hour mosaic. "You get to be Irish once in a while and Puerto Rican once in a while."
Guests, (Irish, Puerto Rican and everything in between) sipped signature Cipriani Bellinis and Bacardi-laced beverages, greeting friends theatrically as if it had been years, rather than hours, since they had seen each-other last. Nina Garcia, Julianna Margulies, Agnes Gund, Fe Fendi, Stefano Tonchi, Liz Peek and Christian Cota all coursed throughout the space, looping repeatedly around the reception area and the bar.
The evening's signature cocktail was called "the quintessential," a rum infused tipple. It appeared not all the waiters were familiar with the bespoke beverage, however, as several guests ordering refills were met with anxious stares that, without speaking, plainly asked "quintessential what?"
Instead of tired inky-black dresses, many female attendees donned festive reds, hoping to show their Latina fashion savvy.

Carolina Herrera, who appeared imperial as ever in her own vermillion gown, explained. "I think the Latinas, the women, they love fashion, and they love to look very soignée, how do you say?" she said, with her particular Latin-Gallic inflection. "We are always happy." Ms. Herrera, however, claimed that Latina women do not have a particular style, but rather a self-conscious, cultural chic. "It's not a Latina style, I think it's about the way you look," Ms. Herrera said. "And they like color as you can see," she added, gesturing across the kaleadoscpoic scene. "As you can see, they like to look perfect."
A perfect testament to Ms. Herrera's claim, designer Isabel Toledo did indeed look perfect. Wearing a vintage-cut, multi-textured cocktail dress with sandals en el estilo Cubano, Ms. Toledo explained her hopes for the next generation of Latinos in America. "The hope is to stay Latina in the soul," she said gleefully. Ms. Toledo offered further advice to Latino Americans voting in the upcoming election. "We should wait until the very last minute until we really feel this is the one we stand behind, to really hear as much as possible. Frankly everyone is being taught what it is to be involved in politics," she said.
Artist Cindy Sherman, who appeared blanched with her blonde locks and white frock, expressed a straightforward vision of Latin America. "Passion, bright colors, good food," she said, were the qualities she most associated with Hispanic people. She admitted, however she had not spent much time in Spanish speaking countries. Her Latin excursions seemed largely limited to childhood experiences, traveling, she said, with her parents to Puerto Rico, Mexico and the Virgin Islands. Still, she had trekked up to el Museo del Bario! "I biked up there once from downtown," she declared. Rather, her primary reason for attending the gala was to congratulate her friend, designer Narcisco Rodriguez whom el Museo was honoring with an award. "He's just one of my favorites," Ms. Sherman said of the coutourier.
Ms. Sherman was certainly not the only guest attending the event in support of a friend. Yaz Hernandez, who has been involved with el Museo for years, had a veritable camarilla of intimates standing behind her. Charged with organizing the gala in years past, Ms. Hernandez relinquished her hostess duties this season to accept an award from the institution for her longstanding commitment to promoting Latin culture.
"She's kind of infectious. You just cant turn her down, and you kind of want to be her," Alexandra Lebenthal said of Ms. Hernandez. Like Ms. Sherman, Ms. Lebenthal admitted she had not spent as much time in Latin America as she would like, aside, of course, from Puerto Rico which she visits regularly. "We sell Puerto Rico bonds, so I know the credit well," she added, referring to Lebenthal and Company, her financial services firm. We couldn't help but notice Ms. Lebenthal's red-carpet ready dress, a close-fitted strapless number with a matching headband (cut from the hem, we imagine). "It's Zac Posen," she said proudly. "I like a big dress."
Sarah Wolfe, one of the evening's co-chairs, also said that Ms. Henandez was responsible for her involvement with el Museo. Ms. Wolfe has worked alongside Ms. Hernandez on the annual gala for years, but found herself with extra responsibilities this time around. "It's not been easy," Ms. Wolfe said of coordinating the event without Ms. Hernandez, "but, you know, nothing worthwhile is!" Ms. Wolfe confessed that she does not speak Spanish, but offered a Latinesque alternative. "I speak French. On peut parler en Francais!" (It's a romance language, good enough!) Ms. Wolfe earned our (highly coveted, mind you) nod as the evening's best-dressed attendee, looking stunning in a 1974 vintage Dior gown.
Finally, The Observer was able to speak with Ms. Hernandez herself. We asked her if she was able to enjoy the evening as an honoree. "Ah, how was it," she began, lips pursed, "A bit difficult. But I shouldn't say that. The truth, the heart, I'll tell you. It was— Oh my God!" she gasped, her gaze drifting toward some unseen detail apparently amiss. "I feel great being a hostess. That, I know how to do," She said, squirming at the unnamed minutiae which had caught her eye. "I have it down to a science." She was, however, thankful for the recognition. "Listen, I'm just grateful." She said, before fluttering off to fix the offending centerpiece or seating arrangement.

editorial@observer.com