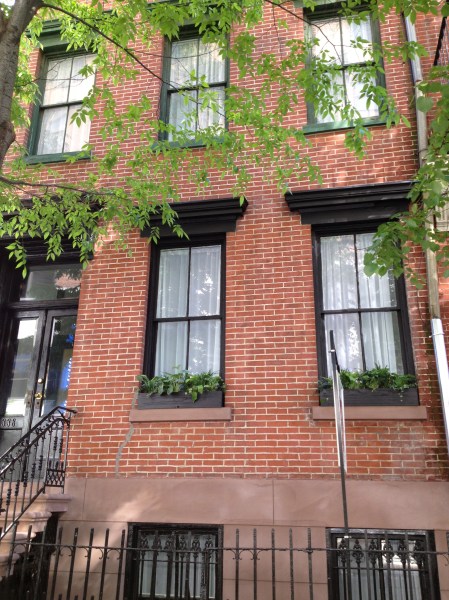 The townhouse at 338 West 15th Street opened its doors to potential buyers on a hot spring day, when Chelsea's sidewalks were thick with tourists spilling over from the High Line and the chill of winter felt like a hazy and half-forgotten dream.
Standing inside the house's front parlor, a grand but shabby room illuminated by light from copious windows, Dexter Guerrieri, the owner, was eager to discuss his vision for the home, a vision that he had honed over his years as president of the boutique brokerage Vandenberg, the Townhouse Experts. What he described was a six-story "elevator mansion" with a glass-walled penthouse, giant soaking tub, ensuite bathrooms, roof deck and chef's kitchen with a 48-inch-wide Subzero refrigerator and an eight-burner Viking range.
Mr. Guerrieri is selling this vision (in the form of architectural plans), along with the rundown four-story house that has been changed only sparingly since it was built in the mid-1800s, for a grand total of $6.95 million. It may be a daring asking price, even considering a beautifully renovated townhouse a few doors down selling for $7.9 million, but whatever he gets, Mr. Guerrieri's real coup was buying the property for $500,000 in 2010.
In a move that was either a smart investment or a swindle, Mr. Guerrieri and his wife, Jane Ordway, took possession of the property from two elderly women after a protracted legal battle over the validity of a purchase agreement signed 30 years earlier. But the past was not something Mr. Guerrieri wanted to discuss that day.
"I don't want the focus to be about that," he said shortly when The Observer asked about the circumstances of the purchase. "I just want it to be about the house, what's wonderful about the house."
For Lucille Greenfield, an 83-year-old composer who prefers to be called Lu, the events that resulted in her eviction from 338 West 15th Street are difficult to forget.
"It was very nice, it was a very nice place. We met a lot of nice people and they knew me for many years in the neighborhood," Ms. Greenfield told The Observer. "I made a lot of friends."
Ms. Greenfield lived in the house for more than 40 years with Marion Molloy, her longtime domestic partner and the erstwhile owner of the house. Ms. Molloy had moved into the house in 1918, as a young girl.
Ms. Greenfield met Ms. Molloy, a secretary for a Catholic books publisher, when she came to the NY School of Music for singing lessons. Ms. Greenfield was her teacher.
"She was affectionate and kind and she liked to laugh," said Ms. Greenfield. "When we met we were always laughing."
Ms. Greenfield would play the piano and Ms. Molloy would sing ("she sang any chance she got," said her partner). Their favorite song was "And I Love You So," by Perry Cuomo.
During most of the years that Ms. Greenfield and Ms. Molloy lived at 338, Chelsea was still a rough-and-tumble neighborhood whose waterfront was defined by work rather than leisure. The block of West 15th between Eighth and Ninth avenues where the women lived was filled with rooming houses and warehouses, artists, writers and seamen. When she lived alone, Ms. Molloy had been the victim of several break-ins, and Ms. Greenfield, who was 20 years younger, recalled helping ward off intruders and thieves after she moved in.
In 1980, Ms. Molloy was approaching 70 and the women decided to move to Manhattan Plaza, a federally subsidized development for performing artists in Hell's Kitchen. They met Mr. Guerrieri and his wife through a housing agent.
"Very friendly, very cordial, very nice people, we thought. They were from Colorado," said Ms. Greenfield (both she and Ms. Molloy were native New Yorkers).
Mr. Guerrieri's lawyer drew up a contract and Ms. Molloy signed on Valentine's Day of 1981, agreeing to sell the house for $185,000—a fair enough price at the time; Mr. Guerrieri gave her $500 to seal the deal.
There was only one condition: the sale would take place only when Ms. Molloy vacated the premises.