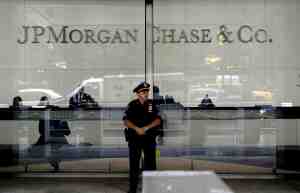 Squeeze play: JPMorgan has been selling profitable securities to prop up second-quarter results after the bank's chief investment office and the trader known as the London Whale incurred billions in losses. The asset sales may be tax inefficient, and will deprive the lender of future gains, which is just too bad for Jamie Dimon's firm. With its share price down 18 percent from the day before the trading losses were first reported, JPMorgan is under pressure to generate earnings.
Self-defense: Rajat Gupta's "swept-back hair, square jaw and soothing voice" could make the former McKinsey & Co. CEO his own best witness as he stands trial for insider trading in lower Manhattan's Southern District courthouse. Calling a defendant to the stand is often risky business.
Detoxed: Citigroup dismantled a board committee that oversaw the bank's toxic assets, according to Bloomberg. Citi Holdings, the bad bank created by CEO Vikram Pandit to house risky loans, still holds about $200 billion in assets, including Greek and Spanish bonds. That's no small amount, even if it's down from $600 billion when Citi Holdings was created in 2008.
$850 an hour: Madoff trustee Irving H. Picard has generated more $554 million in fess against $330 million returned to the con man's victims, and Andrew Ross Sorkin wonders if there's a better way.
Weak glue: Dewey & LeBoeuf filed Chapter 11, and the like big law firm failures before it, the recipe was growth-by-merger and poaching of star attorneys from other firms: When times got tough, the firm's lawyers had no common culture to rally around.
Europe leveraged: At least a quarter of European leveraged buyout firms with debt due before 2015 may default, according to Moody's.
The tempered reaction to Moody's downgrade of Nordic banks indicated the ratings company's influence is waning.
Escape from Tokyo: Japanese investors are buying foreign property to serve as safe haven in the event of financial disaster.
[Timothy A. Clary/AFP/GettyImages]