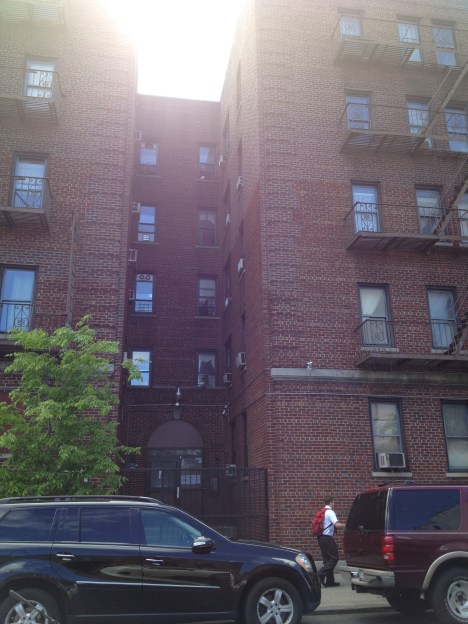 It's been six weeks since the apartment building at 2 Thayer Street in Washington Heights had gas or hot water—ConEd shut it off as a safety precaution because of leaks in the pipes. The walls are cracked, pieces of plaster crumble from the ceilings and as of a week ago, the 47-unit building had 94 open violations with the Department of Housing Preservation and Development. But on paper, at least, 2 Thayer Street doesn't number among the city's worst buildings. Not even close.
In the past, a building with only two violations per apartment would have had a hard time attracting the city's attention. In the wake of the housing crisis, as hundreds of multi-family buildings fell into disrepair, HPD relied on individual tenant complaints to gauge the level of building deterioration, focusing their energies on the most egregious violators, the city's "worst buildings," which often have 10 or more violations per apartment.
Hundreds more were also in bad shape, of course,  and getting worse, as tenants became the victims of real estate speculation gone bust, but inspections and intensive intervention efforts started only after the the building's racked up an appalling number of violations.
But in late April, not only did a team of HPD inspectors come to check out 2 Thayer Street, but so did deputy commissioner Vito Mustaciuolo, who spoke to a group of tenants gathered in the lobby.
"If conditions in your apartment are bad, call 311," Mr. Mustaciuolo said."This is only step one, it's not going to happen overnight, but we'll do it together."
The tenants nodded, somewhat dubious expressions on their faces.
The inspection was part of the Proactive Preservation Initiative that HPD started in 2011. The initiative focuses on kind-of-bad buildings that are at risk of deteriorating into disasters, which are bad for tenants, obviously, but also for the city, which must often make emergency repairs, and then place a lien against the building, without a guarantee of repayment. The initiative aimed to inspect 500 buildings in its inaugural year, but managed to check out 642 buildings, 152 of which were placed on an at-risk list. After a year, 18 have been discharged from the list and 134 remain.
As for 2 Thayer Street, despite its relatively low number of violations, it had come to HPD's attention after Councilman Ydanis Rodriguez told the agency that many problems in the building had gone unreported (also, gas being shut off is the kind of thing that does not go unnoticed).
"It is clear that the landlord who owns the building has not been providing the services that they should, and they should know that it's their responsibility," Mr. Rodriguez told The Observer in a phone interview. "Being a supporter of tenants' rights is one of my first priorities."
The owner of the building is Susan Moy, whose registered address with the city is a P.O. Box in Brooklyn. She could not be reached for comment.
"The building is dirty all the time, we don't have gas, many times we don't have water, we can't cook," said Rosanna Aran-Rodriguez, who lives in the building with her husband Virgilio Oscar Aran and 10-month old son. Mr. Aran is the founder of the labor organizing group the Laundry Workers Center, which has taken up 2 Thayer as a cause. "The landlord doesn't resolve the problems that we have," she concluded.
Ms. Aran paused to situate the baby more comfortably on her hip.
"When he was born, I called the landlord to repair the big hole in the ceiling and he doesn't listen to me," Ms. Aran said. "I was scared because the walls have asbestos and that's toxic for my baby. And me and my family."
Her mother-in-law Ramona Caraballo, has lived in a rent-stabilized one-bedroom for the past 15 years. She said that she'd like to move to affordable housing, but she's been on the waitlist for 10 years and she can't afford to move anywhere that's not affordable.
"When I came here, I needed an apartment, I had two children," Ms. Carabollo said. "The problem is that things are getting worse, instead of improving."
Resident Ilemar Espinal agreed. It had never been good, but things were going downhill.
"From the cracks in the wall we're getting mice like there's no tomorrow," she said with a sigh.
Deputy commissioner Mustaciuolo said that there are many reasons why people don't report problems to 311—sometimes the owner persuades residents that the condition will be fixed, sometimes people are specifically told not to contact 311, and sometimes people simply don't realize that they should.
As it happens, buildings recommended to proactive preservation by local nonprofits, community groups or council members often turn out not to look as good in reality as they do on paper.
In the last two weeks, HPD inspectors have visited 2 Thayer Street twice, gaining access to a total of 38 apartments in the building. The result: the building now has 423 open violations (59 class A, 247 class B and 117 class C, according to the Buildings Department). Bad on paper, and in reality.
kvelsey@observer.com