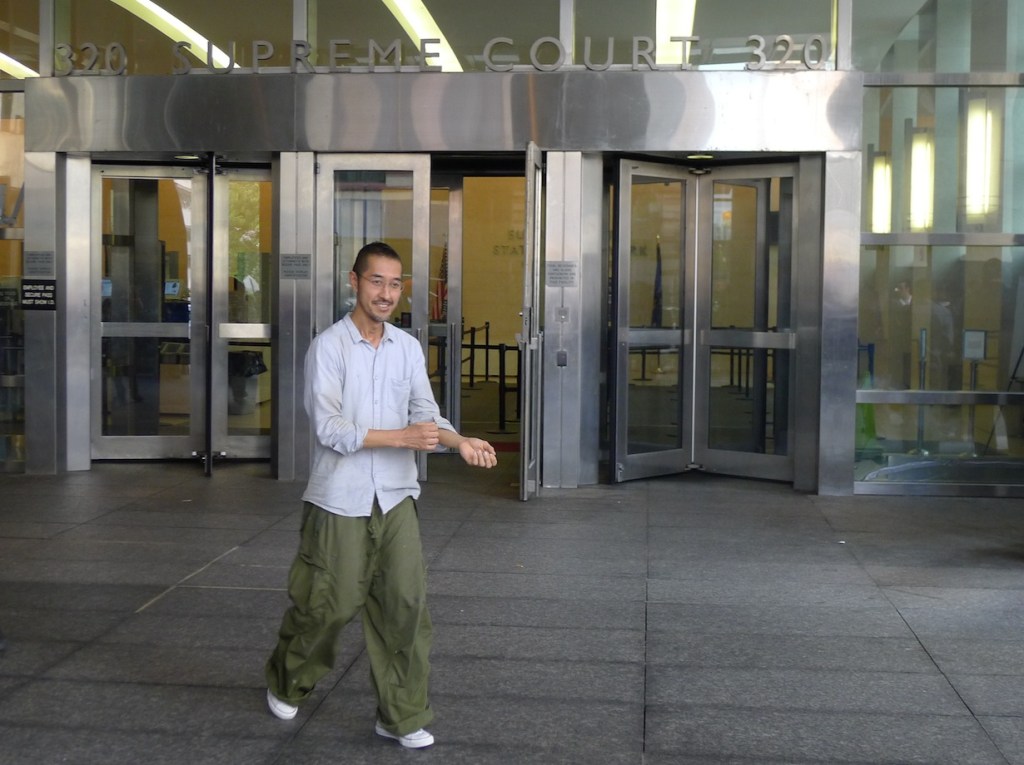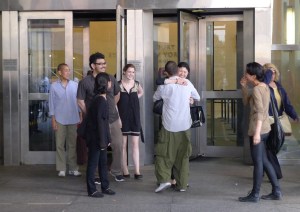 Takeshi Miyakawa was released from custody a little after 4:30 this afternoon. The Greenpoint-based designer spent the past four nights behind bars for hanging I [heart] New York shopping bags, illuminated from within by an LED matrix of his own design, on trees and lamp posts around North Brooklyn.
So, does Mr. Miyakawa still love New York? "Yes, I do," he said as a pack of reporters gathered around him outside Brooklyn Supreme Court on Jay Street, a few long blocks from the Manhattan Bridge. It was an odder than usual scene, just so, for the media scrum outside the halls of justice, with the impromptu press conference being conducted in equal parts English and Japanese, Mr. Miyakawa speaking softly either way.
He wore the same mint-green button-up shit and baggy nylon cargo pants he had been arrested in at 2 a.m. on Saturday morning, after cops spotted him hanging one of his pieces at the corner of Bedford and Lorimer Avenues. A similar piece he placed early Friday morning on Bedford and North Sixth Street got three surrounding blocks shut down when a curious 311 call turned into a zealous 911 response.
"I was in shock," Mr. Miyakawa said of his arrest, "but I was more in shock that people in Williamsburg were locked down for two hours, and I really want to apologize to them."
One reporter asked what Mr. Miyakawa would be doing next, and while he seemed to mean the designer's next steps in his legal defense, Mr. Miyakawa had more immediate things on his mind. "I just want to take a long bath," he said, "and have a beer."
At first it sounded like this might be the end of Mr. Miyakawa's career in public art, but he has not totally given up on what he said is very important work for him. "Not anymore," Mr. Miyakawa said, then added after a pause, "Not in this way. I'll get the permits first." Assuming, of course, he ever could get the city to cooperate with him after the stir he caused.
Mr. Miyakawa said that the most gratifying part of his ordeal was the overwhelming response it received online, both as a work of art and design and also as a piece of civic pride. It was true even here on Jay Street. While reporters were milling around for an hour and a half outside, awaiting the designer's release, numerous passersby asked who they were waiting for, and when told, a number of them had indeed heard of the case. "Good for him," one gentleman said.
Mr. Miyakawa stressed that he had not done this for the  attention, though. "I didn't do this to get you, to get the media attention," he said. He said he was not sure if he would be suing the city for an unjust incarceration and would instead focus on the upcoming trial, which is scheduled for June 21. Until that time, Mr. Miyakawa is out without bail.
He still has to undergo a psychiatric evaluation, a prospect that seemed to puzzle him. "I was totally surprised," Mr. Miyakawa said of the initial denial of bail at his Sunday morning arraigment. "Do I look like an insane person? I'm quite execentric, but not insane. But then again, you never know what a judge will think."
As the press conference wound down, Mr.Miyakawa's supports, a good 15 of them, burst into applause, along with a number of the Japanese reporters, who also bowed in appreciation for the newly free man's time. Like the police, he would get no such courtesy from the local press.
Louis Lin, a friend of Mr. Miyakawa and his greatest champion throughout his incarceration. was standing nearby, wearing an I [heart] Takeshi t-shirt. He was still in awe of the entire turn of events. "I appreciate the response by the police, they did their jobs, they had to," he said. "The simple thing is that it didn't need to escalate the way it did, though. You approach the guy, you figure it out."
Still, he felt the right message had been sent, by Mr. Miyakawa and by the rest of the city. "I feel hopeful," Mr. Lin said. "The way everybody responded, this experience showed that the people and the community still understand each other and love other, which is the spirit of New York that Takeshi loves."
Mr. Miyakawa agreed. "I did this because everything at design week takes place inside a convention center or a warehouse," he said. "I thought it would be interesting to bring it outside and communicate with people, get them connected with design."
Communicate he did.