The most amount of celebrities showed up to the Ukranian Institute's after party. Indie darling Greta Gerwig was able to snag the attention of otherwise occupied photogs from the gala, though she was sans boyfriend Noah Baumbach.
jhanasobserver
The Transformer star showed us the dark side of her moon in her semi-transparent ensemble.
jhanasobserver
The model/actress takes tips from the actress/model.
jhanasobserver
The gala had enough CW kids to create another Gossip Girl spin-off, including The Vampire Diaries Nina Dobrev and Ian Somerholder.
jhanasobserver
Wearing a furry Tom Ford ensemble, Victoria Secret model Chanel Iman stands apart from the pack.
jhanasobserver
The Watchmen actress looks glamerous in an empire waist. How many people can say that?
jhanasobserver
Yellow is a daring color to wear to a ball, though DvF looks way better than an unfortunate
January Jones
.
jhanasobserver
Justin Long, proving that you don't need to be super swanky to stand out in a sea of tuxes...just stand next to someone dressed down!
jhanasobserver
Michael Kors and a Michael Kors dress, being filled by someone.
jhanasobserver
Chloe Sevigny, taking a cue from Ms. Huntington-Whiteley.
jhanasobserver
We aren't exactly sure what look Alexa Chung is going for, but it's very unique!
jhanasobserver
Judd Apatow's wife and star looks like Cinderella.
jhanasobserver
This is when Greta Gerwig had to leave. There can't be two green dresses at a party!
jhanasobserver
Katherine Hepburn incarnate Emma Stone didn't need boyfriend Andrew Garfield to make an entrance.
jhanasobserver
Cleopatra with red hair.
jhanasobserver
We'd like How to Succeed in Business's Rosie Hemingway's dress a lot more if it didn't look like it came from Century 21.
jhanasobserver
Over on the West Side, model China Chow pulls of a dress that's 1/3 cat's cradle.
jhanasobserver
For some reason, Kristen Stewart dressed up more for the after party than she did for
the actual event
.
jhanasobserver
The Disney star is just happy to be here.
jhanasobserver
Gary Oldman, getting ballsy with a white tux before Labor Day.
jhanasobserver
Elizabeth Banks seems to still believe she's in Hunger Games.
jhanasobserver
Pharrell knows that nothing spruces up a tux like metallic hair.
jhanasobserver
On the Upper East Side, Rosaria Dawson kept the party going.
jhanasobserver
If you were one of the world's highest-earning models, you'd flash your assets too.
jhanasobserver
These two kids know that "after party" means "show more leg."
jhanasobserver
A philanthropist finally makes the lineup!
jhanasobserver
Another blonde model wearing white. There seems to be a theme of the evening.
jhanasobserver
We're happy for the splash of color, courtesy of the crop-topped Big Love star...
jhanasobserver
...only to find the exact same hue on George Clooney's current squeeze!
jhanasobserver
Oh, now we know who we can blame for styling all those models!
jhanasobserver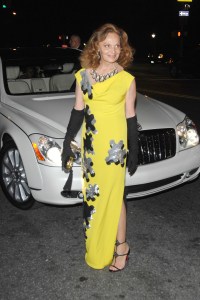 While the Met was swarmed by A-listers Monday night, we only heard news about Beyonce's dress this morning. Upstaged by the attendance of Tim Tebow, these celebrities dispersed to three locations the Met in order to fully dance away the pain: the Ukrainian Institute of America, the Boom Boom Room, and Crown all hosted parties that were hit up by roaming models, actors, and musicians.
So, which party had the best-dressed attendees?