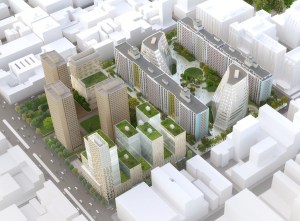 At the Pier 15 party last night, after discussing the beauty of the pier itself, as well as SHoP's work further up the East River Esplanade, particularly the new Pier 35, which Amanda Burden described as "fantastic," the City Planning Commission chair shared her thoughts, however brief, about  NYU's upcoming expansion. The commission will be voting on the plan come Wednesday.
"It's perfectly balanced between the needs of the community and the needs of the university," she said.
The Observer looked out across the harbor and asked if wouldn't be better to expand somewhere like Downtown Brooklyn, where many in the Village and the press have argued the development would be more needed and fit in better, too. Don't build nothing, but don't build everything, either.
Commissioner Burden said that the plan was appropriate in the form it had been taking over the past few months of public review, and would continue to be.
How this will play out at Wednesday's hearing remains to be seen. That the NYU plan got certified in the form it did already means that commissioner Burden is fairly comfortable with the form it was in. Whether she and her colleagues will urge additional changes, beyond those Borough President Scott Stringer wrangled in April, is another matter. But at least the commission chair seems to think everything is headed in the right direction.
Update 6/1: City Planning Department spokeswoman Rachaele Raynoff said that the commission is still working on various modifications to NYU's plan, and that is where the commissioner is striving to achieve a perfect balance. It is true that had the plan already been perfected, there would be no need to deliberate on it.
"The commission is still working to balance this proposal," Ms. Raynoff said. "There are a number of modification on the table that are being deliberated to balance the needs to create a modern university that is globally competitive and needs to expand with the very real concerns of community residents."
The commission will debate these modifications yet again come Monday before officially endorsing them come Wednesday, with commissioners voting for or against the modified plan.
And while presuming that a certified plan is a de facto stamp of approval for a project, a study of past rezonings will show that the commission never strays too far from what it certifies. Substantive changes may be made, but sweeping changes, such as removing a building or two, as many in the community have called for, do not come to mind.