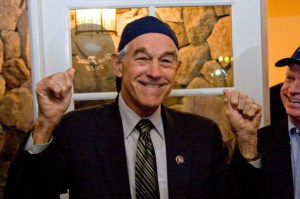 This morning, the New York Observer switchboard received a voicemail for the Huffington Post from an angry, and apparently confused, Ron Paul fan. Presumably, he was responding to coverage of Mr. Paul winding down his presidential bid earlier this week. The unnamed Paulite wanted to let us know that, in his mind, Mr. Paul's presidential bid is very much alive.
"Hi, if this is the Huffington Post, I'm calling to let you know that Ron Paul did not drop out of the race," Johnathan said. "Ron Paul has more delegates than Mitt Romney now and you guys are a piece of shit."
Click here to listen to the angry voicemail.
Though we're most certainly not the Huffington Post, we're glad to respond to this man's message.
We're not sure which Paulite internet forum this caller is getting his information from, but according to the Associated Press delegate count, Mr. Paul currently has 106 delegates compared to Mitt Romney's 989.
Mr. Paul sent an email to supporters on Monday afternoon saying "we will no longer spend resources campaigning in primaries in states that have not yet voted." His campaign manager Jesse Benton subsequently pushed back against reports the Paul dream had died with another email in which he clarified that Mr. Paul wasn't ending his campaign, just the campaigning portion of his campaign.
"Let me be very clear. Dr. Paul is NOT ending his campaign," Mr. Benton wrote. "While our campaign is no longer investing in the remaining primary states, we will continue to run strong programs at District and State Conventions to win more delegates."
Though he laid out their delegate strategy, Mr. Benton acknowledged that "barring something very unforeseen, our delegate total will not be strong enough to win the nomination."
Here at Politicker, we dutifully reported both of these communiques from Paul headquarters.
In the past, Mr. Paul's fervent online army has used email to express their frustration with media's coverage of their candidate's increasingly impossible quest for the Republican nomination. As much as we enjoy getting angry voicemails forwarded our way by amused receptionists, in the future, enraged Paulites should know, reporters at the Observer and the Huffington Post much more likely to get your angry messages if you send them via email.
Additional reporting by Elyse Adler.