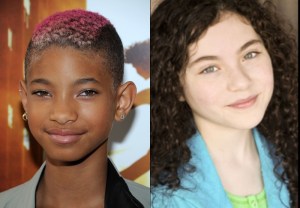 It'll be a hard-knock life for the Broadway cast of Annie, which were announced today to be headlined by 11-year-old Lilla Crawford. The team of precocious moppets, who were handpicked after over 5,000 auditions, will be opening at the Netherlander theater at a date T.B.D.

From Playbill.com:
"We saw so many wonderful young girls for these roles," said producer Arielle Tepper Madover in a statement. "I wish we could have cast them all! The orphans are always a highlight of Annie and we think we have an amazing, unbelievably talented group with Emily, Tyrah, Junah, Georgi, Madi Rae and Taylor. I think audiences will fall in love with each and every one of them. We also are incredibly fortunate to have Jaidyn Young as our standby for the roles of Annie and several of the orphans. She's enormously talented and we're lucky to have her with us."
Unfortunately, "T.B.D." happens to coincide with the release date of Jay-Z's directorial debut with a cinematic version of the musical, starring Will Smith's daughter Willow. Between the unknown talent of Ms. Crawford and the "Whip My Hair" singer, who do you think audiences will flock to see?