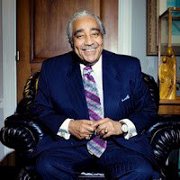 The Campaign for Primary Accountability, a nonpartisan Super PAC devoted to unseating incumbents, is jumping into veteran Rep. Charlie Rangel's reelection fight and backing State Senator Adriano Espaillat's candidacy with an undisclosed sum, the group announced this morning.
"Senator Espaillat's solid record and proven popular support make him a strong, credible challenger who will work for the people of his district when he goes to Congress," CPA's statement read. "Adriano Espaillat represents a new generation and brings a fresh perspective sorely needed in Washington."
CPA, which has spent over a million dollars against both Republican and Democratic incumbents this cycle, is an incredibly peculiar group. Although bankrolled by conservatives, the Super PAC truly appears to be nonpartisan and has spent its resources roughly equally against both parties. Additionally, it has had no consistency in terms of messaging and is willing to attack incumbents for being  insufficiently conservative, insufficiently liberal, or whatever they feel will have traction in a particular campaign.
The Super PAC already claims to have several notches on its belt too, having spent money in races where incumbent lawmakers were defeated in Illinois, Pennsylvania and Ohio.
And, as Mr. Espaillat's fundraising has been relatively mediocre so far, the outside financial assist is probably welcome news for his campaign. On the other hand,  New York City is one of the country's most expensive media markets for advertisers and it remains to be seen how much CPA will actually invest in the race.
Also in the race are businesswoman Joyce Johnson, former DNC political director Clyde Williams, and a former intern of Mr. Rangel's, Craig Schley.
Update: Capital New York reports CPA's investment will be "six figures."