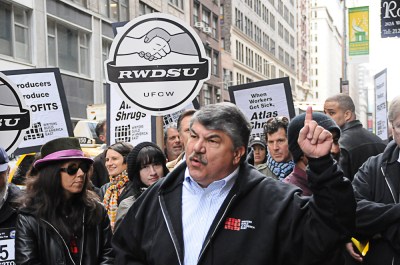 On Friday morning, a group of picketers gathered outside the reality TV production company Atlas Media—among them, AFL-CIO president Richard Trumka and Writers Guild of America East executive director Lowell Peterson. The protest was in support of negotiations ongoing with Atlas Media to provide its writers with health care. "When Workers Get Sick, Atlas Shrugs," read one sign.
"We've got support from eight or nine unions across the city, and not just entertainment unions," said Mr. Peterson, pointing out affiliated protestors from SAG-AFTRA, the Taxi Driver Guild and the United Auto Workers. "What this confirms is that we're welcoming nonfiction writers into the community."
Atlas Media, which produces reality programming like Big Sexy for TLC (about five plus-sized ladies trying to make it in New York) and Mary Knows Best for SyFy (about a Long Island psychic), has been dealing with the Writers Guild of America as its programs require the services of "writers"; reality show writers both pen the narration that plays over the program and set up story beats for the program.
"I'm looking through voiceover bits, manipulating bites to make people say what I need to say, so they have the problems I think they're dealing with," said a writer who has worked for various production companies including Atlas.
What could tip the balance in favor of the writers?
"It's never one thing. It'll be a thousand things we do in a thousand different places. We'll be hitting 'em in England, where a lot of [the companies] are from, we'll be hitting 'em everywhere we need to," said Mr. Trumka. "Eventually, they will succumb. They will organize and give people fair treatment because they have to."
Atlas has been negotiating with the WGAE since its members voted to unionize in November 2010—the two sides have met nine times since beginning negotiations. Other production companies have responded to attempts to unionize in different manners: the British-owned ITV has allowed its UK writers to unionize but has appealed to the National Labor Relations Board to prevent its American workers from doing the same.
Atlas offered a statement over the weekend indicating that it is "one of the few indy non-fiction production companies to actually offer health care and 401k benefits to its employees. We also continue to search for creative ways to address an industry-wide dilemma: how to bring health care access to temporary freelance workers."
Its writers tend to be freelancers by default. Reality production companies, according to writers who spoke to The Transom anonymously out of fear of jeopardizing future employment, do not offer any benefits and generally offer work to independent contractors on a short-term basis. "At Atlas, I was like, 'I would really prefer to do a W2,'" said the former Atlas employee, who was offered a 1099, "and they said 'We don't do that for anybody.'"
"Technically, I think I'll always be a freelancer," said another writer, who pointed out the profit margins on reality television. "Pawn Stars is the biggest show on cable. It pulls in numbers bigger than Mad Men—and they don't have to pay Jon Hamm."