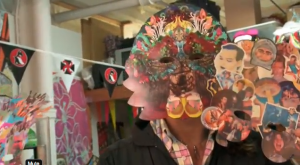 Eli Sudbrack, a founding member of the art collective Assume Vivid Astro Focus (AVAF), wears masks when staging his collective's carnivalesque installations. In a new short video released by Art21, Mr. Sudbrack explains his reasoning, and it has nothing to do with mask fetishism.
"I didn't want people to place a face on Assume Vivid Astro Focus," says Mr. Sudbrack, sitting on a multi-colored couch against a psychedelic backdrop that includes a small open suitcase displaying an array of multicolored lights that look like glow-sticks.
Though AVAF had a solo show at the former Deitch Projects in 2003, it wasn't until an installation in 2004 at the Rosa and Carlos de la Cruz Private Collection in Miami that Mr. Sudbrack first donned one of his kaleidoscopic collage-masks constructed of pop-culture images.
In the video, he says, "It was such a high-profile event. I wanted to be left alone a little bit. It was quite intense."
Over a series of photos of revelers in face-paint and colorful costumes at his rave-like fêtes that his installations sometimes inspire, Mr. Sudbrack explains how the purpose of AVAF has morphed into something less personal, where attendees of his events have taken to donning masks in search of the "sensation of equality" and a "collective consciousness."
And while Mr. Sudbrack used to wear masks even during interviews, he is maskless in this video, having realized that there are some moments, like interviews, where the mask is "a bit too pretentious."
[youtube http://www.youtube.com/watch?v=BB5ykyAAhtk]