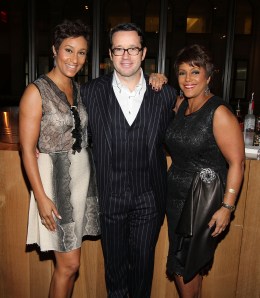 With only twenty months on the job as CEO of Johnson Publishing—home of Ebony and Jet —former White House social secretary Desiree Rogers had about as much magazine experience as the second-year j-school students she addressed at Columbia University Thursday night.
"The first year was extremely intense," Ms. Rogers told students assembled for the year's final Delacorte Lecture. "I learned to love my new friend, Pepto Bismal tablets."
It was also a little lonely. In the first year, Ms. Rogers completely turned over the sales staff, adding brokers in Atlanta, Los Angeles, and Detroit and hiring 65 people. Only chairman Linda Johnson Rice, the daughter of late founder John H. Johnson (and Ms. Rogers's "dearest friend") and the CFO remain, she said, and she was acting as publisher in order to learn the business on the fly.
"I pulled myself back. I was kind of boring," she remembered. "I was exhausted. I was too tired to have fun-fun. I'd stop by the end of the dinner and have a drink."
"I'm back now," she added.
Indeed, with Jet and Ebony restaffed and redesigned, Ms. Rogers's second year is all about expanding Johnson Publishing into an African-American lifestyle company. She's exploring new businesses that will broaden Johnson's reach—Jet-sponsored concerts, boat trips, maybe an online dating site—and overhauling its existing ones.
She recently installed celebrity makeup artist Sam Fine as creative director of Fashion Fair, the cosmetics company founded by Eunice Johnson (late wife of John), after she noticed the limited palette available to black models.
"I'm wearing it myself," Ms. Rogers said.
Next year, she will revive the Ebony Fashion Fair, the annual traveling runway show that highlights up-and-coming black designers and models, and which ended in 2009.
"Why and how would I pass up on the opportunity to reinvigorate these brands?" Ms. Rogers said of Ebony and Jet. "I can't think of more important brands that happened to have been started by an African-Americans."
Prior to taking on the struggling magazines, Ms. Rogers cut her teeth revitalizing hard-to-love brands like the Illinois lottery, People's Energy utilities and Allstate insurance.
"Then I went to the White House, and you think that's the crown jewel, everyone knows what it is, that big brand sitting there, right?" she began. "And then I was criticized for saying the 'Obama brand.'"
"But really what I meant is style… a style of hosting people in the homes. The campaign was run on inclusion so all the events were going to be more inclusive."
Ms. Rogers resigned after a State Dinner turned a little too inclusive, but in the Johnsons, she's found an aspirational lifestyle—one that's not a matter of national security—to anchor her brand. And when she says the company is betting its future on "the House John Johnson built," she means that literally. A couture exhibit of the late Mrs. Johnson's closet is in the works, and Ms. Rogers is considering a line of merchandise (she mentioned dinnerware, apparel or jewelry) based on carpets and wallpapers in the Johnson family home.
"This couple had an incredible eye when it came to patterns and designs," she gushed.
While Ebony competitor Essence is feeling the backlash from hiring a white fashion director (and, later, for parting ways with its white managing editor for posting racist articles to his Facebook page), Ms. Rogers frankly addressed the perks and pitfalls of working for a black magazine. (Although 30% of Ebony and Jet's readers are non-black, she said.)
Ms. Rogers said that "being able to discuss something from the authentic place of that particular culture" gave the editors the freedom to broach tough topics like teen pregnancy, girls in gangs, transsexuality and megachurches. "No one thinks we're pointing a finger," she said.
As for the staff, Ms. Rogers conceded that the editor positions would be a tough gig for a non-black candidate to get—"just because it is the authentic voice"—but her sales team is diverse. One non-black salesperson secured his post by pointing out, "I've been selling women's publications and I'm not a woman."
"I am colorblind," Ms. Rogers said. "If someone wants to take the time to learn the culture they're in."