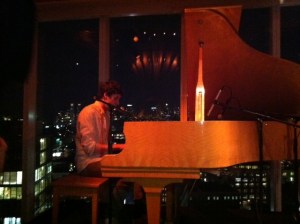 "This is like the 1% of the 99%," a guest said last night at the Top of the Standard, where Audrey Gelman of Downtown for Democracy and Aaron Bondaroff of Ohwow were hosting a party for their new handbook, The Pocket Guide to Politics.
While many of the 99% were out marching for Occupy Wall Street's May Day protest, in the cushy beige lounge at the Top of the Standard, artists, musicians, DJs, fashion designers and actors were out in droves, swilling Moët and fizzy cocktails, and fraternizing in a frothy comingling of uptown glamor and downtown grit.
Half Gallery owner Bill Powers stood by the DJ booth in a plaid shirt and red-tinted glasses as designer Cynthia Rowley hung out on the dance floor in a sharply tailored jacket. Photographer Terry Richardson, Girls creator Lena Dunham and club impresario Andre Saraiva were also amongst the revelers in various states of dancing, lounging and posing for cameras. Artist Nate Lowman DJ'd as Mr. Bondaroff, a k a A-ron the Downtown Don, stood nearby in a red cap and jean jacket, violating his old boast, "I'm so downtown, I don't go above Delancey,"
"It's synergistic," said Ms. Gelman, one of the board members of D4D. A petite brunette wearing a dress made almost entirely of safety pins, Ms. Gelman, is an example of the crossing over. She's the press secretary for Manhattan borough president Scott Stringer, but also has a featured role on HBO's Girls and has Terry Richardson as a boyfriend.
Copies of the Pocket Guide, which aims to explain the basics of the political system simply and with images by well-known artists like Terry Richardson, Andrew Kuo and Dan Colen, were piled on a nearby table. Another table offered voter registration.
Midway through the revelry, Ms. Gelman got up on a small stage in front of a brightly lit piano, at which point the loud dance music came to a halt.
"I work in politics, but my friends don't," she said amid hoots and hollers, in front of windows that looked out onto the glittering Manhattan cityscape. "They're constantly asking me, 'What do you do? No, what do you really do?'" She explained a bit more about D4D, which went on hiatus after the 2004 elections. "D4D is relaunching tonight," she said. People in the crowd hooted again.
Donald Cumming of the Virgins then got up at the piano and played two songs.
"I love Donald," said Bill Powers to The Observer, looking over the dance floor. "He wrote those two songs for tonight, at least that last one—'I Am a Cow.' It's not exactly about politics, but it's political. It's about his being a vegetarian."
"Nate Lowman did this collage using scans of bumper stickers," he added, "which read 'vote Obama' riffing off the famous Warhol poster for George McGovern in his race against Nixon." Then told us a story about the time artist Dana Schutz was given the opportunity to live-draw President Obama during a "BET" interview. "After the interview, Mr. Obama asked, 'Can I see your handy-work,'" he continued, "and all she had drawn was something like an ear and part of his face. She has an opening this week, you should ask her about it."
Later, we went back for another cocktail, but the open bar had closed. After paying $18 for a vodka soda, we walked over to the registration table and learned that five people had registered to vote.
Mr. Richardson was lounging in a banquette overlooking the dance floor. In the Pocket Guide he smiles for a photo with President Obama. How was it to photograph the president? Mr. Richardson looked up grumpily. "He's amazing," he said.
Mr. Bondaroff was in better spirits. He smiled and reminisced about his first meeting with Ms. Gelman. "She worked for me at my first store, aNYthing," he told us. Asked about his own entry into politics, Mr. Bondaroff smiled. "I've been into politics my whole life," he said. "To live in New York is to be involved in politics."