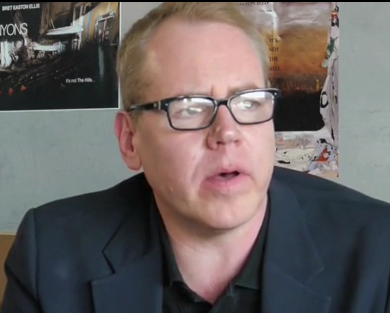 The last time we checked in on The Canyons, the micro-budget noir written by Bret Easton Ellis and directed by Paul Schrader, Mr. Ellis was talking up your girlfriend's favorite porn star James Deen to play one of the film's leads. A very Post-Empire move, if you ask him. (Not familiar with Mr. Ellis's theory? Here's a good rule of thumb: The Hills is Empire, Jersey Shore is post.)
The movie's financing strategy, however, might be even more low-brow, brilliant. A few hours ago, Braxton Pope, the film's producer, formerly of Lionsgate, posted a fund-raising campaign for The Canyons on Kickstarter with the goal of raising $100,000.
Kickstarter, which is having something of a moment, has been kind to the movie industry. Recently, cofounder Yancey Strickler revealed that Kickstarter had funded 4,500 films since it launched, seventeen of which premiered at Sundance this past January. A few were even nominated or short-listed for an Oscar. But we don't recall hearing anyone of Mr. Schrader's stature trying out the site. In case you missed entire swaths of the seventies and eighties, Mr. Schrader wrote Taxi Driver and Raging Bull and wrote and directed American Gigolo.
In the few hours that it's been on Kickstarter, The Canyons has already raised almost $5,000 from more than 40 backers. The perks sound like any fanboy's, or Tisch student's, dream. Pledge $5,000 or more and Mr. Ellis will read and review your novel, "and have that review appear on an international blog or website. (TBD)." Way cheaper than an MFA! But be careful what you wish for. Mr. Schrader is offering a similar package for the same price. "Have your script covered by Paul Schrader: — Notes to be delivered in person (NY or LA) or skype." Sorry, Iowa! But they saved the real prize for one lucky person who pledges $10,000: a moneyclip autographed by Robert DeNiro and given to Mr. Schrader on the set of Taxi Driver, as well as "dinner with Paul," hopefully not consumed via video chat.
In our profile of Mr. Deen, Mr. Ellis talked about disavowing the standard big-budget development process. Mr. Ellis and Mr. Schrader had also collaborated in a shark horror flick called Bait, which was shut down after five years even though a crew had been hired, a boat had been found, and Emmy Rossum and Anton Yelchin had signed on the project–all because funding fell through. "The reason why [The Canyons] came about was our frustration over the development process in Hollywood and just how we're never going to go through it again," Mr. Ellis told us in February.
According to the movie's Kickstarter page, Mr. Ellis, Mr. Schrader, and Mr. Pope are personally financing part of the film themselves through Mr. Pope's new company Sodium Fox, "in order to maintain complete creative control of the distinct source material."
If you think you could do justice to the tale of "five twenty-somethings quest for power, love, sex and success in 2012 Hollywood," check out the open auditions. As for casting the affably kinky Mr. Deen, no decision has been made, Mr. Ellis told The Observer in early April. "Paul is looking at everything that's being uploaded to Letitcast and wants James to tape an audition which we are waiting for," he said by email.
We'd like to humbly suggest another potential prize to add to their arsenal: the name of the third person who almost participated in a "coked-up" threesome with Mr. Ellis and Rielle Hunter on 13th Street "somewhere in the late 1980's," according to Mr. Ellis's oh-so-Post-Empire Twitter.