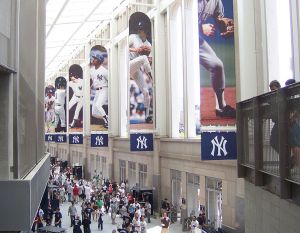 Someone finally wrote the story that's been the talk of baseball and banking circles ever since Guggenheim Partners CEO Mark Walter (over)paid $2.175 billion for the Dodgers in April: That what was good for the McCourts of Los Angeles might be even better for the Steinbrenners of Tampa. Indeed, the Daily News posits that the Yankees could sell for as much for $3 billion—a pretty penny more than the $8.8 million King George paid for the franchise in 1973.
And even if Hal Steinbrenner promptly denied the rumors: "Complete fiction," he told the News, that doesn't mean we can't imagine a new Boss in the Bronx.
Michael Bloomberg: An obvious choice, but we're not sure Mayor Mike has the patience for baseball. We're pretty sure Rudy Giuliani doesn't have the cash, but it'd be fun to watch him scurry around raising money.
Steven A. Cohen: A man who donates a tour of his personal art collection to charity has the ego to step into King George's shoes. The SAC Capital Advisers founder bought one of those token $20 million shares in the New York Mets. That would hardly stop Mr. Cohen from stepping in and…shit-canning A-Rod?
David Einhorn: Except that we always thought he pursued the Mets because he smelled a bargain, or just likes toying with a wounded animals.
Mark Zuckerberg: Knows how to overprice a product!
Zong Qinghou: Because it's about time America's preeminent sports franchise had a Chinese owner, and the fact that Mr. Zong—who is chairman and CEO of China's leading beverage company—is sometimes referred to as "the Chinese Drinks King" leapfrogs Mr. Zong past Liang Wen'gen, who made his fortune in construction machinery.
George W. Bush: Least-literate fan base gets perfect owner in America's least-literate president.
Jared Kushner: Um, free tickets?