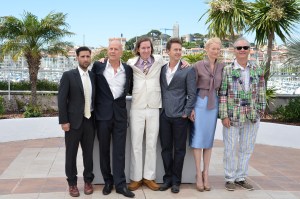 CANNES, FRANCE– Last year's Cannes Film Festival was a bizarre anomaly by any measure. The art-house powerhouse debuted Oscar's best picture (The Artist); Woody Allen's highest-grossing film ever (Midnight in Paris); Terrence Malick's mystical, masturbatory tone poem (The Tree of Life); and Lars von Trier's apocalyptic melodrama (Melancholia), which prompted the Danish provocateur to announce himself a Nazi, get officially labeled "persona non grata," and be told he physically can't come within 100 yards of the festivities. That's a hard act to follow, even for the French.
This edition, Cannes' 65th, still has the phalanxes of gendarmerie, the crushing tuxedoed crowds, the Harvey Weinstein street sightings (two in one day!) and the obligatory media stunt appearances (Sacha Baron Cohen promoted The Dictator yesterday by literally dressing as a camel jockey and riding his dromedary in front of the Carlton Hotel). But Wednesday's kickoff still felt a bit underwhelming. Maybe it was Wes Anderson's Moonrise Kingdom, an opening night film stuffed with big stars in small roles (including Bruce Willis, Bill Murray, Tilda Swinton, Edward Norton, Harvey Keitel, and Frances McDormand), which chronicles first love between two alienated kids on a New England island in 1965.
More a taxidermist's study of WASP ennui than a full-blooded cri-de-coeur of youthful longing, Moonrise Kingdom has been polarizing the critics here: those on Team Wes see it as a consolidation and refinement of the director's singular talents, while the haters (including myself) have been bristling at the hermetic fetishist's prioritizing of sartorial splendor and fastidious set design over anything resembling actual human insight. Personalized stationery for all! Everyone in meticulously tailored uniforms! Visual symmetry in each frame! The cast members routinely assemble in moribund tableaux vivants and deliver stilted dialogue in deadpan barks. It's charming until it's stifling.
One major find is 13-year-old Kara Hayward, who makes a striking debut in the film as the pubescent love interest. Moon-faced, stern, vulnerable yet steely, Hayward brings delightful depth to the film's otherwise unearned pathos. Also doing the heavy lifting is composer Benjamin Britten, whose rapturous "Noye's Fludde" adds operatic levels of emotion that invigorate the anemic script.
At the press conference, Mr. Anderson's actors spoke with deep affection for their helmer. "It's a goofy punch," said Bill Murray of what he sweetly called a "silly little kid's film," and also explained why he's been in every one of Mr. Anderson's films since Rushmore. "I really don't get any other work but through Wes. I just sit by the phone."
Edward Norton called his experience "completely delightful," while Wes regular Jason Schwartzman was more specific. "The clothes are very tight," he said. "And I don't get to experience that kind of tightness all the time, so it's wonderful on a lot of levels."
Speaking of clothes, this year's competition jury, headed by Palme d'Or winning auteur Nanni Moretti and featuring the expected collection of actors and directors (Diane Kruger, Ewan McGregor, Andrea Arnold, Raoul Peck), includes a wild card: couturier Jean-Paul Gautier. No stranger to film as a costume designer for Peter Greenaway, Luc Besson and—three times—Pedro Almodóvar, Mr. Gautier still got a bit of ribbing from the international media. One Italian journalist asked if a film's lack of style would prevent him from calling it a masterpiece. "It depends what you mean by style," Mr. Gautier shrewdly answered. "If the film really touches me, it's not just a question of the aesthetics. Of course, the image is of paramount importance, but beauty is everywhere. It's emotion that really counts." Let's hope Wes was listening.