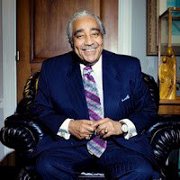 Congressman Charlie Rangel is trying to use a Super PAC that's backing his opponent State Senator Adriano Espaillat to his own advantage. The Politicker received a mailer from Mr. Rangel at our Washington Heights bureau in which the congressman encourages people to give him their votes because of the Super PAC's support for his rival.
"Pinned down on the battlefield in Korea, Charlie Rangel decided to devote himself to public service if God let him survive. And he's never stopped fighting for us," the mailer says. "But now right-wing Tea Partiers from Texas are trying to stop him by telling us how to vote–and its time to fight back."
The "super PAC" from Texas Mr. Rangel refers to in his mailer is the Campaign for Primary Accountability, Houston-based PAC that targets incumbents. In a statement announcing its support for Ms. Espaillat, the CPA described Mr. Rangel as a prime example of the downside of incumbency.
"Charlie Rangel has sadly become the model of how some long-term incumbents become too comfortable with the special interests that infest Washington," the statement said. "As chairman of the powerful Ways and Means Committee, Rep. Rangel was responsible for extending the notorious tax break that allowed GE to pay zero taxes on billions of dollars of profits."
The CPA has supported both Democrats and Republicans who are running against longtime incumbents. Though the PAC's activities have been bipartisan, it has several prominent conservative donors including ERICPAC, the political action committee run by House Majority Leader Eric Cantor, and Joe Ricketts, the billionaire who made headlines earlier this month when his own Super PAC considered a plan to target President Barack Obama by painting him as a "metrosexual black Abe Lincoln."