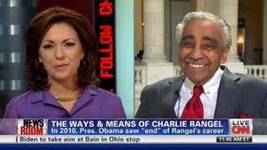 Charlie Rangel appeared on CNN for an interview with Kyra Phillips this morning and he was asked about President Obama's apparent lack of support for his re-election bid.
Recall that in 2010, the president described Mr. Rangel, then mired in a fundraising and illegal apartment scandal, as someone who " served his constituents very well" but also as someone "who's at the end of his career. Eighty years old. I'm sure that he wants to end his career with dignity. And my hope is that it happens. "
"Do you think you need the president's support this time around, congressman?" Ms. Phillips asked.
"Of course not," Mr. Rangel replied, before quickly adding, "I would welcome it. But what did he really say, that I reached the end of my career. I've been here for 41 years, now going on 42. That he wished I leave with dignity. I have no question that I will and his wishes will be fulfilled. What did he say that was so derogatory if you take the words? Now, true, he didn't hug and kiss me like I wish he would, but I don't have any problem."
Pressed by the host that Mr. Obama did stress that the congressman ends his career with dignity, Mr. Rangel replied, And I will."
This issue seems to continue to dog the Harlem pol.  Asked about the White House's support during an endorsement by Bronx BP Ruben Diaz, Mr. Rangel said, "Frankly, I don't give a damn,"  a statement that his campaign had to walk back, saying it was an obvious reference to "Gone With The Wind."
And asked during his campaign kickoff about the president's support, since his campaign was distributing flyers of the two of them and Mr. Rangel seemed a little taken aback and responded, "God damn that's a good question."