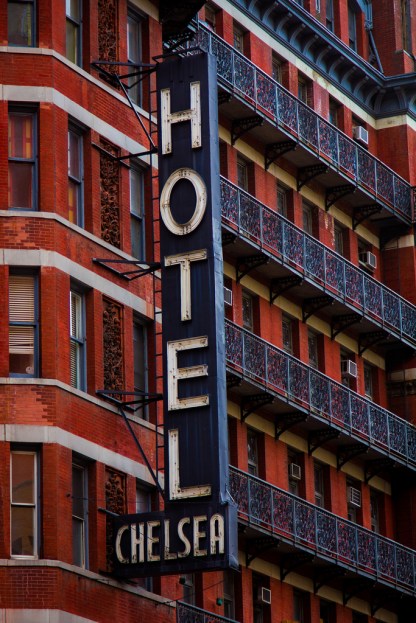 Sunday morning in front of the Chelsea Hotel, a crowd of eccentrically-attired, artistic types milled about the sidewalk while a scrum of reporters and local politicians scrutinized a collection of photographs propped on easels.
A passerby stopped to gawk. "What is this, an art show?" she asked.
It was, in fact, a press conference, at which tenants and politicians announced their shared dissatisfaction with the ongoing disrepair of the building, and their intention to engage in a bruising legal battle if no agreement is reached Monday in housing court.
For an update on today's housing court decision>>
"We are here, unfortunately, to address how far the Chelsea Hotel has fallen. The Chelsea Hotel, once symbolic of all that Chelsea and the West Side had to offer, has fallen into disarray," said City Council speaker Christine Quinn. "Mold covers its walls and  asbestos literally lurks in the airshafts, rust is deteriorating cabinets and sinks and appliances. The landlord has done nothing, less than nothing, to improve these conditions."
The residents of the Chelsea have spent the last six months focusing their energies on the decay and demolition that have taken hold  since Joseph Chetrit purchased the historic edifice for $80 million last August.
The housing court date is the latest stage in a battle that had been raging since last summer, when Mr. Chetrit's gung-ho renovation set loose hazardous debris that had been hidden behind the walls for decades. Asbestos and silica dust particles filled the air. Pipes burst and mold spores colonized the walls and ceilings. Rust dripped from the faucets of the landmarked building, and life suddenly became very unpleasant for the remaining 100 (many of them rent-stabilized) tenants.
Politicians expressed their outrage, vows were made, agreements were hammered out, Patti Smith planned a free concert in the hotel, but was asked not to perform by residents who were worried she was performing at the behest of the new owner. (Ms. Smith, her efforts unofficial and uncompensated, who insisted that her only allegiance was to the Chelsea Hotel and agreed not to perform).
Months passed, the mold and decay continued to spread, eviction actions moved forward against a number of residents, negotiations failed and the tenants had finally decided that either the Chetrit Group would sign the agreement that they had reached earlier or they would demand a trial.
Built in 1896, the red brick building, the former haunt and home of many an artist including Bob Dylan and Dylan Thomas and Patti Smith and Sid Vicious and Leonard Cohen and Charles Bukowski, has often been a little down at the heels (as you might expect of a place known for its lenient, rent-bartering policy. In Just Kids, Ms. Smith wrote about having to let the water run for awhile so that it didn't come out brown). However, according to Ms. Quinn and others, the current state of decay is advanced and not due to benign neglect, but work done quickly, carelessly—and with little consideration for the people living in the building. (Chetrit is said to have classified the building as "unoccupied" when it applied for the building permits).
"This is what happens why an owner puts the rights to make a lot of money over the right of tenants to live peacefully," said assemblyman Dick Gottfried (the roster at the press conference was an impressive one, especially for a Sunday morning, but then, mold is seldom so glamorous).
The Tenants Association filed a lawsuit in December demanding Mr. Chetrit fix unsafe conditions and comply with safety and environmental regulations by removing hazardous materials.  Since then, the tenants have agreed to extension after extension, concession after concession, but the Chetrit Group kept moving the goal posts, said the tenant's attorney Janet Ray Kalson.
The lawyer representing the Chetrit Group did return requests for comment.
Coming on the heels of Landmarks Preservation Committee late-April approval for the construction of a massive rooftop bar/nightclub atop their historic hotel (a move that shocked many, especially since Landmarks had ordered architect Gene Kaufman to resubmit a more realistic proposal earlier that month), the last failed agreement proved to too much for residents.
"The landlords have delayed, obfuscated and stonewalled by refusing to enter into an agreement that would protect tenants' rights at the Chelsea," said Zoe Pappas, president of the tenants association, who took The Observer on a tour of some of the building's more unsavory spaces.
"The personnel has been very forthright in seeming to promise to do things. It's just the fact that they don't," said painter Mary Anne Rose-Gentry, speaking from the window of her 8th-floor apartment crowded with paintings done by her and her late husband Herbert Gentry, old copies of Art in America, a flaking ceiling and crumbling tile and plaster knocked loose by the damp beneath the walls and the force of nearby demolition work.
The apartment looked defeated, the 8th-floor hallway looked defeated, and Ms. Rose-Gentry looked especially defeated. "I can't be a hardy camper anymore," she said. "Can you imagine collectors coming here? People used to love to come to the Chelsea Hotel and get a peek."
On the way out, Ms. Pappas pointed out that the hallway, and the plastic sheeting over the doorways of rooms where work was being done, was actually an improvement, her high-heels clicking past a (thankfully) empty mousetrap.
In the 1st-floor single-room apartment of John Knoernschild, a dapper retired composer and pianist, conditions were even worse. Upon opening the door, a cloud of swampy odor hit The Observer, with mold wafting from the cracked walls and tile. A huge hole  gaped in the ceiling. The bathroom's electricity had cut out, so Mr. Knoernschild had rigged up an extension cord light-bulb of the sort construction workers use.
"You'll see that some of my solutions are pretty primitive," said Mr. Knoernschild with an impish grin.
He seemed happy to play host in his tiny apartment. (As two other tenants talked about the similarly-tiny apartment they shared, he edged gracefully into the conversation. "Excuse me, he said, leaning forward eagerly on his cane, but I must interrupt for a joke. The apartment was so small that they had to get married.") He clearly loves the kitchen-less 250-square feet of space where he's lived for the past 30-years.
"Every time I want to get to something I have to move something else," said Mr. Knoernschild with obvious delight. "They were trying to get me to move for $10,000! You can't find another place for that."
As miserable as it was to live with a huge moldy hole in one's apartment and a bathroom without electricity, Mr. Knoernschild said that he'd certainly enjoyed some aspects of the fight.
"I've been living here for 30 years and I'm suddenly meeting residents I've never met before!," he marveled. "I think it's really brought us together."
And even with a housing court battle looming and the Chelsea rendered nearly unlivable with noxious debris, the residents seemed to take some comfort in the fact that the building was, at least for the time being, still theirs. A bland luxury hotel might be taking shape behind the plastic sheeting, but at the moment, the Chelsea is about as far from luxury as you can get.
"The building has a life of its own. It's been a magnet for artistic and creative people even before it was built. You can't just rip the guts out of this building and turn it into a nightclub for Bridge and Tunnel people," said Brian Bothwell, a filmmaker photographer who lives in an apartment once occupied by both Leonard Cohen and Grace Jones. "You can buy the Chelsea Hotel, but you don't own the Chelsea Hotel, the Chelsea Hotel owns you."
kvelsey@observer.com