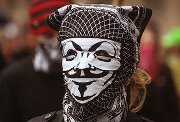 Three men who allegedly planned attacks on President Obama's Chicago headquarters and the mayor's residence have been arrested by Chicago police. Reuters reports anti-N.A.T.O. and Occupy Chicago-associated protesters Brian Church, Jared Chase and Brent Betterly were charged Friday with "conspiracy to commit terrorism, providing material support for terrorism, and possession of an explosive incendiary device." In a report published Saturday afternoon the Associated Press said prosecutors allege the men also planned attacks on police vehicles and substations.
Mr. Church, age 20, and Mr. Chase and Mr. Betterly–both 24–were picked up during a raid Wednesday on the South Side of Chicago. Authorities say they were planning to use Molotov cocktails during the N.A.T.O. summit, which begins Sunday.
Brent Betterly, originally from Florida, arrived in Chicago on April 27, according to a post he made on the Facebook timeline for a page dedicated to Occupy the Chicago N.A.T.O. Summit. "just arrived in chicago last night," wrote Mr. Betterly on April 28, "the people in occupy chicago have been awesome! thanks for the hospitality! this is going to be a great summit!"
Jared Chase is from Keene, New Hampshire. On May 2 Mr. Chase posted a news article about a peaceful protest of a Bank of America branch in downtown Chicago, commenting, "Thats me again lol."
Nothing on either man's Facebook indicates overt support of violent, Black Bloc-style protests.
In a statement quoted by Reuters, Occupy Chicago member Natalie Wahlberg ridiculed the charges against the men, stating that they "are utterly ridiculous." The Chicago Police Department, said Ms. Wahlberg, "doesn't know the difference between home beer-making supplies and Molotov cocktails."
More than 12 protesters have been arrested since the anti-N.A.T.O. actions began, but mostly for minor charges such as trespassing.
Mr. Betterly, Mr. Chase and Mr. Church will have bond hearings Saturday.