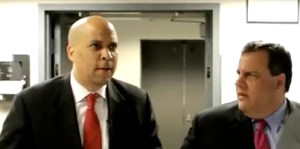 New Jersey Governor Chris Christie and Newark Mayor Cory Booker filmed a video for the annual New Jersey Press Association Legislative Correspondents Club Show spoofing Mr. Booker's reputation as the "supermayor" and Mr. Christie's widely rumored status as a potential vice presidential pick for Mitt Romney. The video begins with Mr. Christie trying to come up with something "even bigger" than Town Halls to energize his administration. He gets the idea to try to copy Mr. Booker's daring rescue of a woman in a house fire last month by similarly saving someone from a disaster, but at every turn, Mr. Booker has already beat him to it.
"I got this," Mr. Booker says.
"Booker!" Christie replies angrily each time his efforts are thwarted.
The video ends with Mitt Romney calling Mr. Booker and asking if he'd accept the vice presidential nomination.
"You're very persuasive, but I'm not a number two guy," Mr. Booker says to Mr. Romney.
Mr. Christie walks in and takes the phone.
"Excuse me Mayor, I got this," he says.
Watch the clip below.
[youtube http://www.youtube.com/watch?v=wHN0ZeS5c-4]