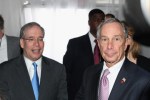 At a press conference on the State Senate GOP's efforts to block a reproductive health bill, Council Speaker Christine Quinn and Manhattan borough president Scott Stringer were asked what they think of the anti-choice Mitt Romney's courting of Mike Bloomberg–and the possibility that Hizzoner may bestow his endorsement on the governor.
Ms. Quinn–who, you will recall, walked out of a press conference this week when a participant insulted Mr. Bloomberg–declined to mention her erstwhile ally, simply saying, "I think Mitt Romney would be a bad president– not just for women but in a lot of areas. And I think Governor Romney has demonstrated a very clear change in position, one that is extremely hostile to women's reproductive health and women's health care in general."
She went on to list the how the GOP's attacks on Planned Parenthood have undermined women's overall health, regardless of anyone's feelings about abortion.
Manhattan borough president Scott Stringer–who has frequently clashed with the mayor–took a more direct approach.
" For every time the mayor has lunch with Mitt Romney, he should take five council members to lunch," Mr. Stringer said.
City Councilmember Tish James–also a frequent Bloomberg critic–was standing next to him, and muttered under her breath something to effect of  "Skip me."
"Aww, you would go in a second," Mr. Stringer replied.
He went on to say, "I think the issue is that one of the great bully pulpits the mayor has is a tradition of being involved in the national debate. The truth is the mayor has been one of the great allies of reproductive rights and women's rights," at which point Ms. Quinn chimed in, "Absolutely."
"So I would urge him to understand that he has a real impact on this issue," Mr. Stringer continued. "And when you sit in the same room with somebody who is totally opposite what you believe it hurts the overall national movement. With great respect I would say to him you do it once it is a courtesy but don't go there again."
Pressed on whether or not he was urging the mayor to not endorse Mr. Romney, Mr. Stringer made a joke about his own strained relationship–in contrast with Ms. Quinn's–with the mayor
"When I get to have lunch with him in ten years I would urge him to do that."