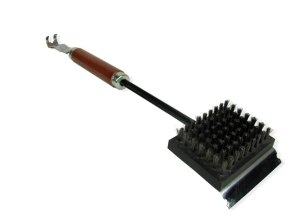 Nestled in between all of the press releases honoring Memorial Day today was an interesting statement from New York Senator Chuck Schumer entitled, "SCHUMER: CLEANING YOUR BARBECUE GRILL WITH A METAL BRUSH THIS SUMMER COULD HAVE SERIOUS HEALTH CONSEQUENCES; CALLS FOR SAFETY REVIEW TO DETERMINE WHETHER METAL BRISTLE GRILL BRUSHES ARE SAFE FOR CONSUMER USE."
After recent accidents involving the bristles breaking off and hapless diners accidentally ingesting them, Mr. Schumer is calling on the federal government to determine whether metal bristle grill brushes in general are safe for the public to use.
"Metal bristles are one topping no one wants on their burger this holiday season," he said in the statement. "Grilling season should be a great time for the whole family, not a time to be worried about an emergency visit to the hospital. I urge the Consumer Product Safety Commission and the FDA to launch a safety review of these products and warn consumers about their potential dangers. I'm also urging consumers to use caution when using these metal grill brushes this summer to avoid more accidents like these."
Mr. Schumer even wrote a letter to these agencies urging them to take action, which you can view below:
Dear Chairman Tenenbaum and Dr. Hamburg,
I write today to request your attention to a serious consumer safety problem involving brushes with metal bristles used to clean grills and barbecues. I am alarmed by recent news reports of consumers swallowing metal bristles that had become embedded in food after using a grill brush to clean the grill. In both cases, the men had to undergo emergency surgery to remove the bristles and repair the significant internal damage caused by the metal wires. I am asking both agencies to look into this serious consumer product and food safety issue.
With public reports of two serious injuries in the last week alone, I am concerned that there are many more that have gone unreported. I respectfully request that the CPSC review hospital injury data to determine whether there is a pattern of injury that would require a product recall. I also ask that you evaluate whether manufacturers or importers have failed to report product-safety-related information as required by law. As you know, manufacturers and importers have an obligation to report a potentially hazardous product – a product containing a defect which creates an unreasonable risk of serious injury or death – to the CPSC immediately.
As we head into the summer grilling season, I also am concerned that the risk of injury from loose grill brush bristles is not obvious to the consumer. I respectfully request that both agencies take immediate action – such as an advisory on your websites – to warn consumers of the risk of serious injury from accidentally ingesting metal grill brush bristles that are loose or have already broken off.
Thank you for your attention to this important consumer safety issue. I ask that you please keep me informed of developments.
Sincerely,
Charles E. Schumer
United States Senator