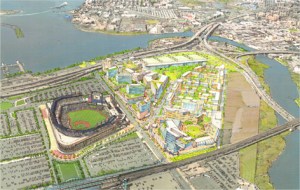 It may be a strike for the mayor, but Steve Ross and Fred Wilpon have scored big time with the latest Willets Point do-over.
It was revealed earlier this month that after a year of weighing competing proposals, the city had selected the Related Companies and Sterling Equities to redevelop the Iron Triangle, albeit in vastly revised form. Housing and other development would be put off in favor of a large mall.
Make that two malls, surrounding the new-ish throwback stadium, a veritable retail double play.
According to both The Times and The Journal, before much gets built in Willets Point, the 62-acre swath of chop shops and heavy industries just east of Citi Field, a mall will be built on the west side, on the site of the current Mets parking lots. Per The Journal:
The first step for the developers would be to take on a costly 20-acre environmental cleanup and build the new parking lots for the stadium [on the Willets Point side to the east], the people said. They would also be required to build a hotel and a small amount of retail just to the east of Citi Field.

Then they would be able to build more than 800,000 square feet of retail on the parking lots to the west of the stadium. Only then would construction begin of the new neighborhood first envisioned by the Bloomberg administration, with the construction of the 400 apartments and 680,000 square feet of retail. That aspect of the project could grow, the people said.
The Times said the cleanup could cost more than $40 million, but also notes that the added development is seen as a positive, not a negative, to the plan.
According to the executives, Related Companies joined forces with Sterling Equities to come up with a new proposal that embraced Citi Field. Proponents argue that the city will get what it had always planned at Willets Point, but the timeline and sequencing will be different.
How long it will take for any of this to ever be built is an open question, though there is said to be a $35 million penalty if no housing is completed by 2025. How much housing, beyond the initial 400 units planned, remains to be seen. All four developers reportedly argued that the project, with 5,500 units, a third of which were meant to be affordable, is too complex to complete as originally planned.
That took a grueling City Council review, another of which will be due for parts of this project. Which also raises the specter of the Kingsbridge Armory, where retail unions successfully defeated the Related Companies bid, with the help of local pols. Could that be a problem here, too?
The developers had better be wearing their lucky jock straps to pull this one off.