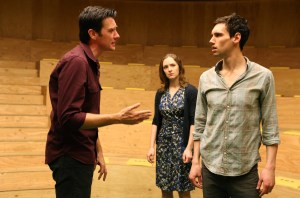 Despite the fact that we're 12 years into the 21st century, some publications are too squeamish to print the word Cock, which happens to be the correct title of the extraordinary new play by Mike Bartlett at the Duke on 42nd Street. They're erroneously mislabeling it The Cockfight Play in a ridiculously misguided attempt to deter the easily offended from a four-letter word used hourly by every child of 5. It's not about an illegal sporting event involving cruelty to animals. But it is very much about what the title suggests. It was such a smash when I tried to see it three years ago at the Royal Court in London that I couldn't get in. Judging from the raves across the pond, the title is the only thing that has been diluted for American audiences. The play is still a dazzler, brilliant and hilarious, and one that rests (no pun intended) on the penis.
There's no nudity, but Cock is still about sexual identity and the lack of it. John (Cory Michael Smith) is a young man with an older stockbroker boyfriend called M (Jason Butler Harner) who walks out on a long and seemingly happy relationship after an argument, leaving his lover confused and emotionally devastated. When John decides he wants to come back home, he brings a peace offering of a teddy bear, a symbol of his errant youthfulness. Then comes the reluctant confession: during his absence John discovered a latent heterosexuality he never thought possible. John becomes the center of attention in an emotional and physical tug of war for his lust, love and you-know-what below the belt. He is the only one of the play's four characters with a name, but ironically he's the one with no definite identity. Torn between M, the male stockbroker, and W, the divorced female teaching assistant (Amanda Quaid) he's just been to bed with, John is an irritating conundrum nobody can solve. The play is about how M and W thrust and parry for a commitment from John, who actually digs them both. "You're lucky to have me," says John, with the arrogance of a virile beauty who thinks he's pretty special. It's absolutely O.K. to love them both equally, John insists. "But not at the same time," says M.
In James Macdonald's economical but intense staging, everything is insinuated and suggested, but not actually shown or even simulated. The sex scenes are spoken, conveying intimacy with only words. The sexual initiation of the boy by the woman and the first meeting of their sex organs is suggested by a movement in circles. When John undresses M, the older man is pursued in right turns, like two soldiers in a formation drill. The actors are strong, forceful and sensitive enough to hold attention for 90 minutes without intermission. Finally, it all ignites at a dinner party where John is forced to make a choice. John is the one who pulls the strings, yet he's also the only one allowed the luxury of vulnerability. It's an awkward meeting, as expected, joined by M's father, F (Cotter Smith), who tries to reduce the triangular confusion to reason. Making a strained effort to be polite, civilized, honest, careful and fair while the dinner courses are cooked and served (but never used as props), everyone maps out their verbal strategy for holding onto the object of their passion. "Him and me, we must both be stupid," says W in a moment of exasperation—"What is it about you?" Clueless and vexing to the point of inciting violence, John replies, "I think it's my eyes."
Navigating the turbulence in their changing values brings out painful truths in each character until the writing reaches a force that is shattering. Every issue is explored, first with wit, then rationale, and eventually desperation. As it unfolds, the play also makes you shift uneasily in your own judgments, values and analysis. While the writing often surprises and entertains ("Some people might think you're scrawny, but I think you're like a drawing—with a pencil"), audience frustration builds. It is ultimately up to John to make a decision, but he's surrounded by so much psychological baggage, drifting around him like molecules, that neither lover can leave him for good or shake him loose. He's a wimp. You want to slap him. He's also enormously appealing. You want to take him home and feed him. The script recognizes the humor and humanity in each of the characters. Whether you find the title a turn-on or a run-in-the-opposite-direction invite, Cock is far from a sensationalistic shocker. Some people are calling it the first important play about bisexuality, but I think it's a sharp and penetrating bit of insight into the paralyzing indecision that can result from not knowing your true identity in life and love.
Cock is staged on circular bleachers of raw pine that look down on a tiny space the size of a round Pilates mat. Be forewarned: it's a drag to sit for 90 minutes on open wooden rafters with no back support. For a play without scenery, sets, furniture, costumes or props, you can feel the tension at the dining table, taste the red wine lapped up with angst, close your eyes and visualize the sex. This is a wonderful British export and a vibrant addition to the New York season, but as much as I like it, Cock is definitely a production that needs a chiropractor on duty.
rreed@observer.com