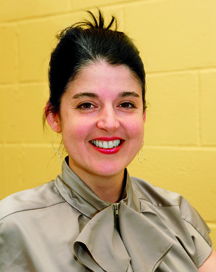 Columbia University has announced that it has appointed Deborah Cullen to the position of director and chief curator of the Miriam and Ira D. Wallach Art Gallery. She starts her new role on July 1.
Dr. Cullen will be coming from the Museo del Barrio, the city's top Latino cultural institution, where she is the director of curatorial programs. She's been at the museum since 1997. Her recent projects at the Museo del Barrio have ranged from heading the curatorial team for an international graphics Triennial to documenting the history of Latin American performance art in the late 20th century, and examining the role of Latin American artists in shaping the American avant-garde movement in New York before World War II.
The Wallach Art Gallery, which was established in 1986 under the auspices of Columbia's department of art history and archaeology, is modeled on a laboratory and is a platform for shows that are related to research, and curated by graduate students, faculty and outside scholars.
The appointment comes at a time when the Wallach Art Gallery is planning a move from its current location on the eighth floor of Schermerhorn Hall, on Columbia's Morningside Heights campus, to the Lenfest Center for the Arts, at the Manhattanville campus, which will occur in 2016.
"Deborah Cullen has the experience and vision not just to plan for and shepherd the move to Manhattanville," said Nicholas B. Dirks, dean of the Faculty of Arts and Sciences at Columbia University, in a statement, "but also to build on the extraordinary history of the gallery as it brings the department of art history and archaeology into a new partnership with the School of the Arts."