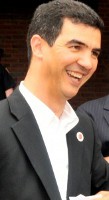 David Segal, who was abruptly fired as Councilman Ydanis Rodriguez's spokesman following the revelation he served time in federal prison for attempting to torch an Army recruitment center in the Bronx seven years ago, has been re-hired. Sources tell The Politicker Mr. Segal's precise duties are still being determined, but he is back at a desk in the Council building at 250 Broadway. 
Mr. Segal served six months in federal prison after he was arrested for making a pre-dawn attempt to throw a burning rag into the recruiting office, which was closed at the time. The doors on the building were jammed with glue and he was reportedly clad in rubber gloves and carrying maps of the recruitment center and a note vowing a "wave of violence" directed at the "military industrial complex" would occur throughout the Northeast as a response to the wars in Iraq and Afghanistan.
The New York Post revealed the details of Mr. Segal's old conviction in a story published last Friday that branded Mr. Segal "terrorist in City Hall." Within a few hours, Mr. Rodriguez said Mr. Segal had been "relieved from my staff." The Fortune Society, a group that focuses on rehabilitating prison inmates suggested his dismissal "may violate state law" against discriminatory hiring practices.
As of this writing, Mr. Rodriguez has not responded to a request for comment on this story. Mr. Segal also declined to comment.