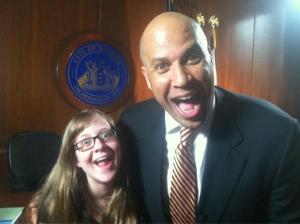 Last month, a picture of President Barack Obama meeting with an exceptionally enthusiastic young fan became a viral internet sensation. Now, Newark Mayor Cory Booker is giving the Commander-in-Chief a run for his money by mugging for his own picture with a very, very excited young supporter.
A woman using the handle @mopeychloe posted this picture on her Twitter page this evening.
"don't be too jealous… @CoryBooker is awesome," she wrote in an accompanying message to a friend.
Mr. Booker was clearly pleased with the shot and linked to it on his own Twitter page.
"Thanks for taking & sharing this fun pic," he wrote.
Check out a full-sized version of the photo below.